NOLAsynchroniCITY Film Series
* The NOLAsynchroniCITY film series features the extraordinary culture of New Orleans and our Louisiana heritage.
* The films will be shown twice at 7pm and 9pm on Sunday nights at Buffa's.
* The creators will be available for questions in between film showings.
* The series is offered free and open to the public.
August 2016
14 Cajun Crossroads
Video, color; 60 minutes Copyright 1987
Originally aired on WLAE-TV, New Orleans, this documentary accurately portrays a culture that is popular without being well-understood. The range of Cajun lifestyles is recorded from bayou to prairie, urban center to oil rig, white-collar offices to waterways of farmers and fishermen. Prior studies of Cajuns considered the impact of the oil boom, but this documentary goes further by considering how both the rise and fall of the oil industry have changed south Louisiana culture.
Producer: WLAE-TV, New Orleans/Peggy Scott Laborde
Director: Karen Snyder
21
Red Beans & Ricely Yours: Satchmo in New Orleans
Video: DVD, color; 60 minutes Copyright 1990
A television documentary profiling the primary social and musical influences of the New Orleans years on jazz legend Louis Armstrong. Locations, historic visuals, and recordings shed new light on the development of jazz.
Producer: WYES, Channel 12 Director: Peggy Scott Laborde
28
Two 30/ish minute films:
In That Number! The New Orleans Brass Band Revival
Video: DVD, color; 28 minutes Copyright 1985
The film explores the relationship between New Orleans jazz and brass bands with the city's cultural and social traditions. Produced and Directed by Jerry Brock, the documentary features Danny Barker along with the Dirty Dozen, Tuba Fats & The Chosen Few, Young Tuxedo, Rebirth and All Star (kids) brass bands. Also featured are Reverend Semmes L. Harvey and the Mount Moriah Missionary Baptist Church and Youth Choir, Young Men Olympia Jr. Benevolent Association, Avenue Steppers Social Aid & Pleasure Club, Dr. Michael White, Gregory Davis, Kalamu Ya Salaam, James Andrews and twelve year old trumpeter Nicholas Payton.
The Spirit of New Orleans Jazz
This is a 90 minute film documentary on New Orleans jazz produced in 1992 by Telecom Japan International and broadcast over NHK Japan. Jerry Brock is the lead writer and consultant. It features Danny and Blue Lou Barker, James Andrews, Lillian Boutte, Terrence Blanchard, the Lil' Rascals Brass Band, and many others including six year old Troy "Trombone Shorty" Andrews. The program is subtitled in Japanese and only a portion of the program will be shown.
September 2016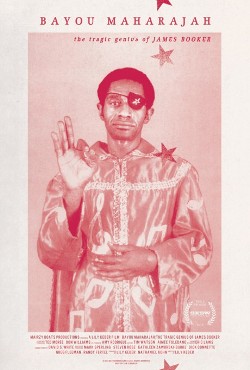 4
Bayou Maharajah
Bayou Maharajah explores the life and music of New Orleans piano legend James Booker, the man Dr. John described as "the best black, gay, one-eyed junkie piano genius New Orleans has ever produced." A brilliant pianist, his eccentricities and showmanship belied a life of struggle, prejudice, and isolation. A wild genius with a style that combined elements of rhythm-and-blues, jazz, ragtime and classical music, he gained the nicknames "Piano Prince of New Orleans", "Black Liberace" and "Bayou Maharajah". Illustrated with never-before-seen concert footage, rare personal photos and exclusive interviews, the film paints a portrait of this overlooked genius.
by Lily Keber
www.bayoumaharajah.com/film.html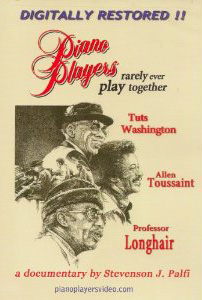 11
Piano Players Rarely Ever Play Together
by Stephenson Palfi
"Piano Players Rarely Ever Play Together" is a 76 minute portrait of three great New Orleans pianists and how they influenced one another's music. The three keyboard artists - Tuts Washington, Professor Longhair and Allen Toussaint - are featured playing together for the first time in a rehearsal for a joint concert. The rehearsal turned out to be the only time the three ever played together, because Professor Longhair died two days before the scheduled performance. The documentary takes viewers through the very personal and sacred New Orleans tradition of a jazz wake and funeral procession for Professor Longhair, which was taped at the encouragement of his widow, Alice. Stevenson's widow Polly Waring will attend for Q&A
Read more:
http://www.nolasynchronicity.com/piano-players-rarely-ever-play-together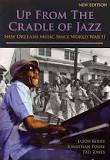 18
Up from the Cradle of Jazz
60 minutes Copyright 1980.
This lively and informative video traces the development of New Orleans jazz by focusing on two musical families: the Lasties and the Nevilles. From interviews with family members, still photographs, and voice-over narration emerges an understanding of the relationship between family and artistic production, place, and sound. An attempt is made to locate these familial traditions within the larger structure of jazz and African-American cultural traditions.
Producer: New Orleans Video Access Center
Director: Jason Berry and Jonathan Foose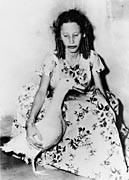 25
Ruthie, The Duck Girl
The film is the story of one of the French Quarter's most dynamic and eccentric characters, Ruth "Ruthie the Duck Girl" Moulon. For more than 50 years she roller-skated around the Quarter with her pet ducks in tow. But, as we learn, every visible feature of Ruthie's outlandishly public existence echoes an event from her hidden past.
Aired in 1999 on WYES-TV in New Orleans.
Directed by Rick Delaup
December 2012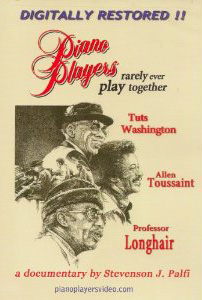 2 Piano Players Rarely Ever Play Together
by Stephenson Palfi
http://www.nolasynchronicity.com/piano-players-rarely-ever-play-together
9 Faubourg Treme - The Untold Story of Black New Orleans
by Lolis Elie and Dawn Logsdon
www.tremedoc.com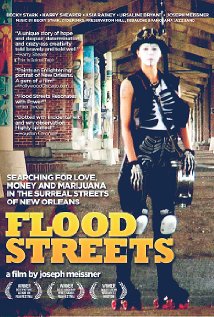 16 Flood Streets
by Helen Krieger and Joseph Meissner
www.floodstreetsmovie.com/
January 2013
13 Dirty Rice
by Pat Mire
www.patmire.com/films/dirty-rice/
20 Big Uneasy
by Harry Shearer
http://thebiguneasy.com/
27 American Creole
by Glen Pitre and Michelle Benoit
http://coteblanche.com/american-creole-new-orleans-reunion
February 2013
10 All on a Mardi Gras Day
by Royce Osborn
http://www.spyboypics.com/main.htm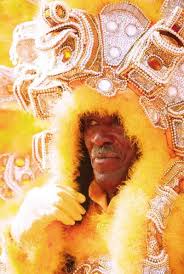 17 Tootie's Last Suit
by Lisa Katzman
http://www.tootieslastsuit.com/film.html
March 2013

3 Always for Pleasure
by Les Blank
www.lesblank.com/more/AlwaysForPleasure.html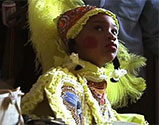 10 Bury The Hatchet
by Aaron Walker
www.burythehatchetfilm.com
17 NOLAsynchroniCITY REWIND
6:00pm Irish New Orleans by Terri Landry
6:30pm Dirty Rice by Pat Mire website
8:00pm Big Uneasy by Harry Shearer website
9:30pm American Creole by Glen Pitre and Michelle Benoit website
10:30pm Irish New Orleans by Terri Landry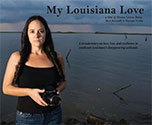 24 My Louisiana Love
by Monique Verdin and Sharon Linezo Hong
www.mylouisianalove.com/
31 NOLAsynchroniCITY REWIND
6:00pm Island of Saints and Souls by Neil Alexander
6:30pm Flood Streets by Helen Krieger
8:00pm All On A Mardi Gras Day by Royce Osborn
9:00pm Tootie's Last Suit by Lisa Katzman
10:00pm Island of Saints and Souls by Neil Alexander
April 2013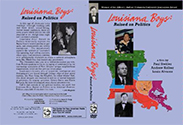 7 Louisiana Boys: Raised on Politics
by Paul Stekler, Louis Alvarez, Andrew Kolker
www.cnam.com/flash/politics/boys.html

14 Good for What Ails You:
Healing Secrets of the Cajuns, Creoles, and Bayou Indians
by Glen Pitre and Michelle Benoit
www.coteblanche.com/good-for-what-ails-you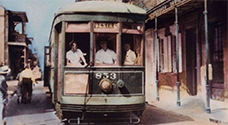 21 Streetcar Stories
by Michael Mizell-Nelson and Matt Martinez
www.streetcarstories.org/
May 2013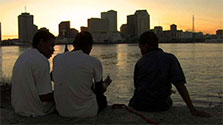 12 Tchoupitoulas
by Bill Ross IV and Turner Ross
www.rossbros.net/tchoupitoulas.html
19 Cutting Loose
by Andrew Young and Susan Todd
www.archipelagofilms.com
26 NOLAsynchroniCITY SHORTS
Yeah, You Rite! by Louis Alvarez and Andrew Kolker website
Least Favorite Love Songs by Helen Kreiger website
Have fun ... the funtrepreneur
Buffa's Bar & Restaurant
1001 Esplanade Avenue
(corner of Burgundy Street)
New Orleans, LA 70116
(504) 949-0038
www.buffasbar.com
www.buffasrestaurant.com
On the Border of the Quarter since 1939, Buffa's Bar & Restaurant is a true New Orleans style neighborhood bar. Food and libations.
You probably know about Buffa's because they have great musicians performing there. If not, please go sometime. They never have a cover charge which makes it easy to invite friends to come with. Buffa's is a relatively small and comfy longtime neighborhood bar with a back room that serves as an eating area/music room/film and entertainment area separate from the bar. I want to showcase the films in a less formal and more comfortable environment that is small and intimate and therefore offering more personal gatherings for locals. The family owning Buffa's is great and they have a brand new projector plus a huge screen in a non smoking environment serving food. Great combo!
NOLAsynchroniCITY is made possible with support from Buffa's Bar & Restaurant, The Charitable Film Network and Press Street
synchronicity - An apparently meaningful coincidence in time of two or more similar or identical events that are causally unrelated.
(coined by Carl Jung)