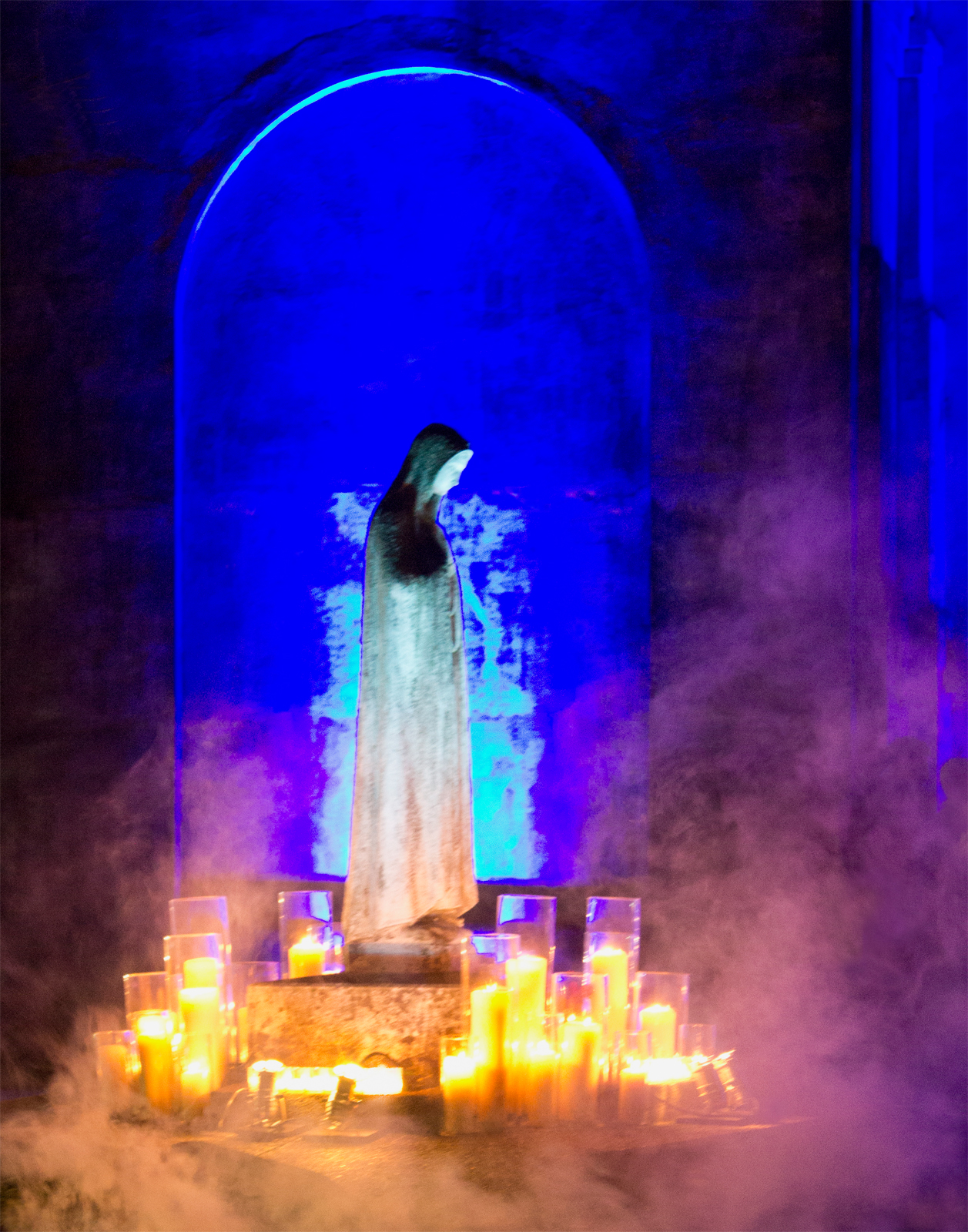 Madonna De Luz
You have probably heard every photographer you know say:
If I could only capture what I see.
This is a story about God giving me a photo where I captured more than I saw!!
The night of the Krewe du Vieux parade I took this photo in the yard of the deconsecrated Holy Trinity Church on the corner of St. Ferdinand Street and Dauphine Street in Bywater that is now an art and performance space called the Marigny Opera House.
While looking for a parking space near the KdV after party, I drove by an event going on in the church yard. It was ethereal and mesmerizing because they had projected blue lights over the normally drab grounds.
After parking, I was on my way back up Dauphine to catch the beginning of the parade and by then the yard was empty so I stopped to take a few photos. I later found out that the yard had been decorated for a wedding and the wedding party was inside for the ceremony by the time I got back to the church. It was amazingly beautiful because they had placed lots of candles and a smoke machine at the bottom of the larger than life statue of the Virgin Mary.
When viewing my photos the next day, I was amazed to find what had not been seen at the time of taking the photo because the blue light reflecting through the smoke surrounding the Virgin Mary statue turned into a luminous turquoise blue yet the blue light intermingled with the warm yellow lights of the candles had turned the billowing smoke purple. The hues and intense saturation of the colors are fabulous.
God gave me this extraordinary photo!!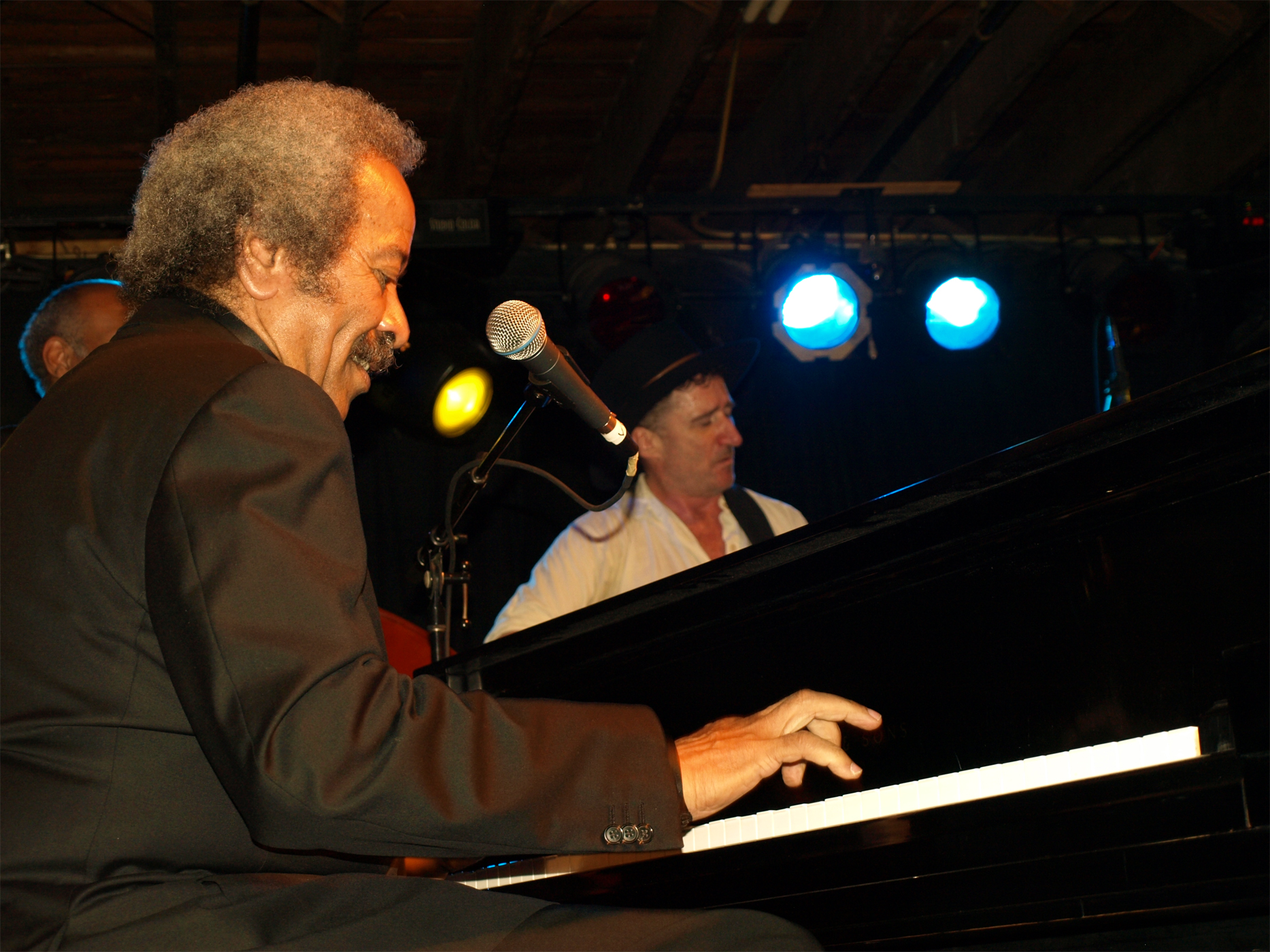 Allen Toussaint (piano) John Cleary (guitar)
Fats Domino 80th Birthday at Tipitina's.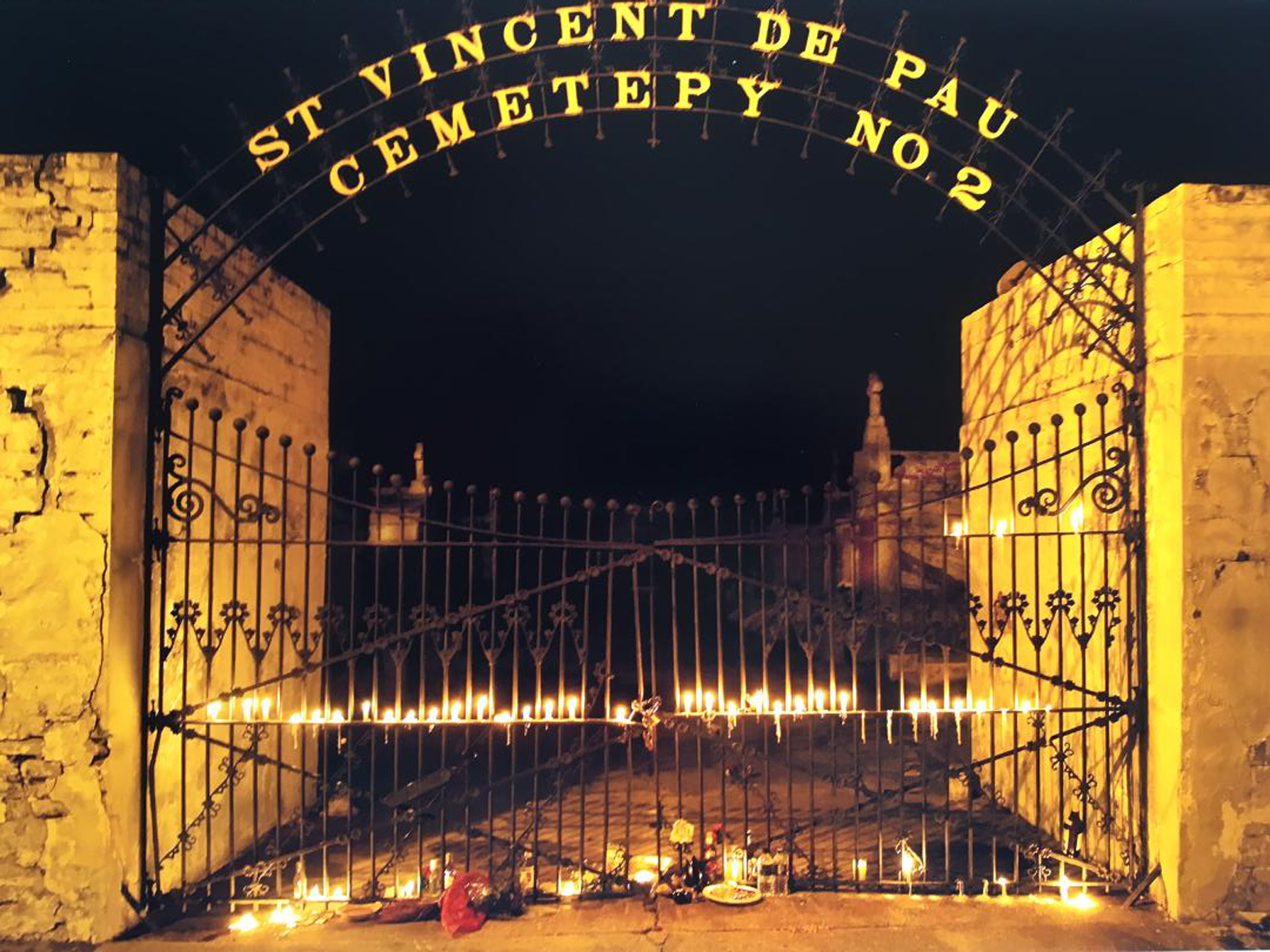 Ancestral Blessings
After Priestess Sallie Ann Glassman's Ceremony for Gede celebrating the Day of the Dead in Rosalie Alley, off of Rampart between Piety and Desire, we have a pot luck supper followed by a procession to the cemetery to leave food for the Dead who come to back to earth at midnight for the November 2nd Day of All Souls which is also referred to as the Feast for All Souls. We say prayers particularly but not exclusively for one's relatives and each person lights a candle in gratitude and prayer to honor their ancestors.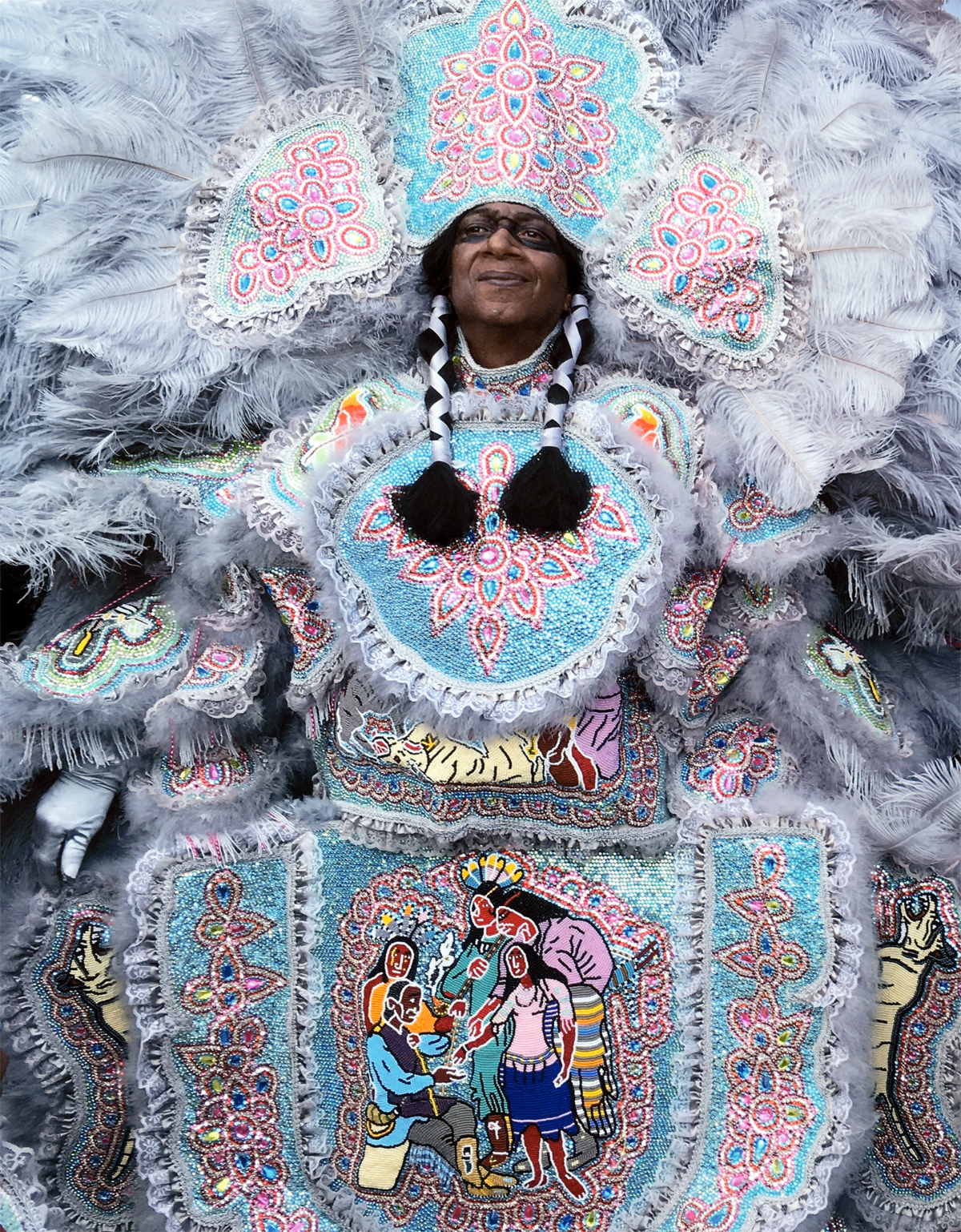 Big Chief Howard Miller of the Creole Wild West
President of the Mardi Gras Indian Council
Uptown Super Sunday March 19, 2017.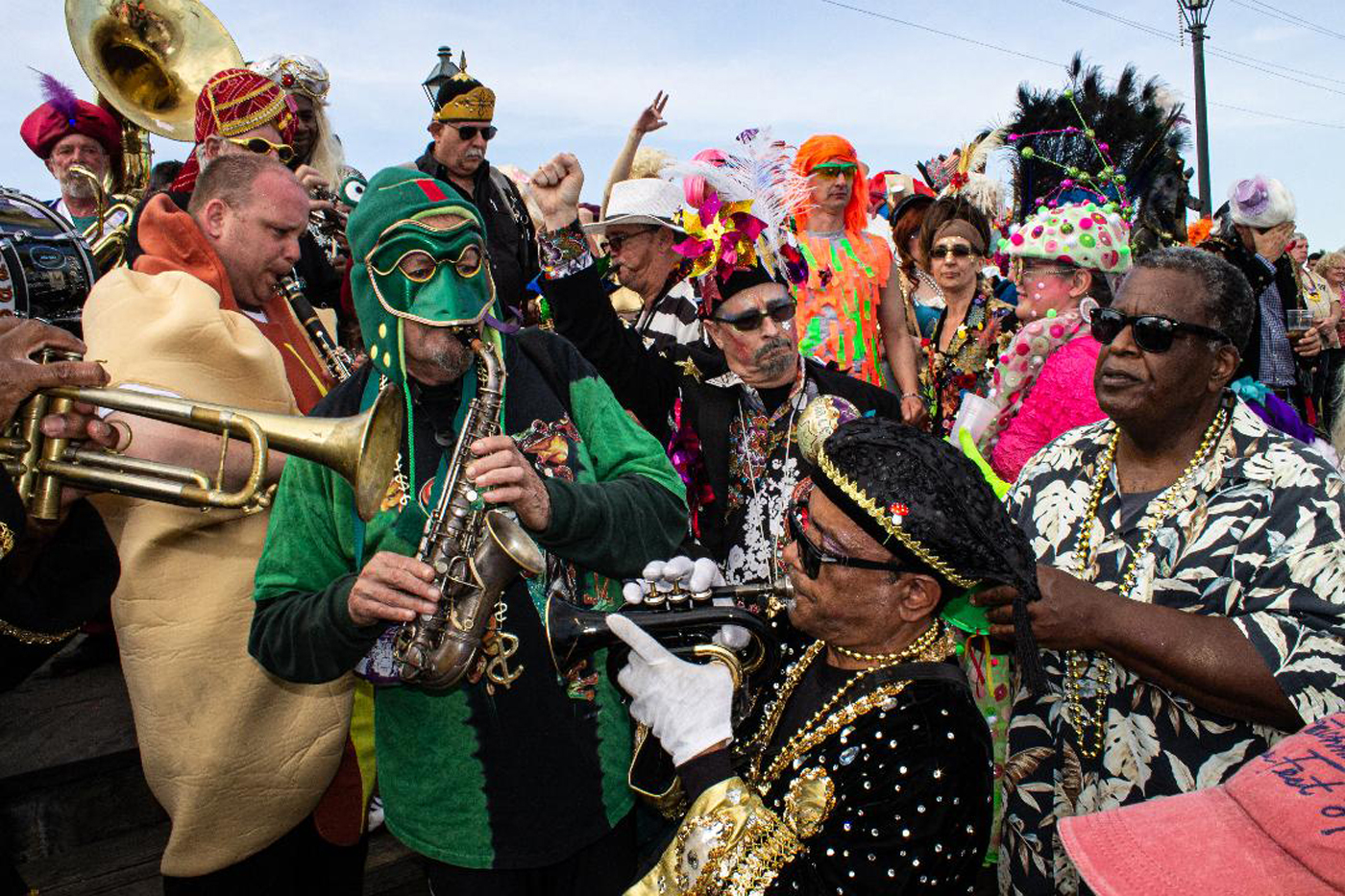 Moonwalk Serenade
For many New Orleanians the Mardi Gras celebration begins by gathering with friends of the Secret Society of Saint Anne, followed by parading through the French Quarter with the Storyville Stompers Band et al, stopping at Canal Street to watch the Rex Parade then strutting, prancing and dancing back into the quarter culminating at the Moonwalk with some members throwing ashes of their beloveds into the Mississippi River.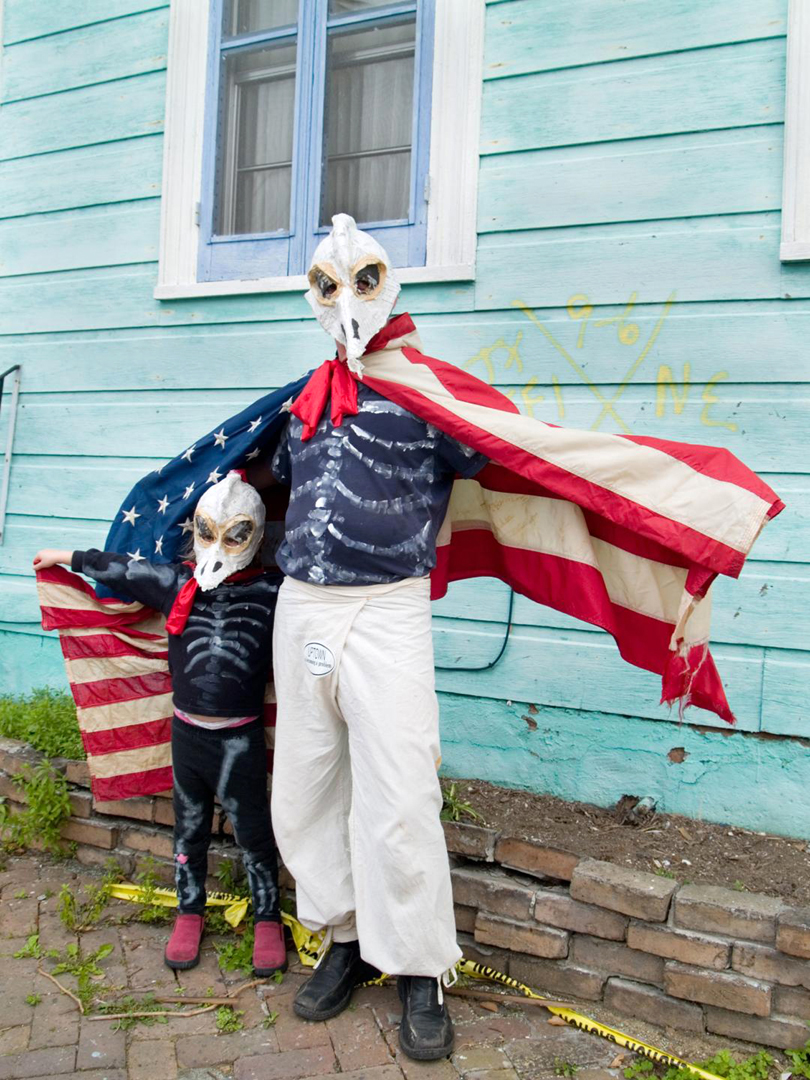 New Orleans, America

Sculptor Jeff Becker and daughter in the Ninth Ward the first Mardi Gras after Katrina. The Artist used flags as a reminder that New Orleans, seemingly forgotten, is part of America. The yellow marking on the house denotes that none died in this home as a result of the hurricane. This photo was juried into three exhibits and sold each time.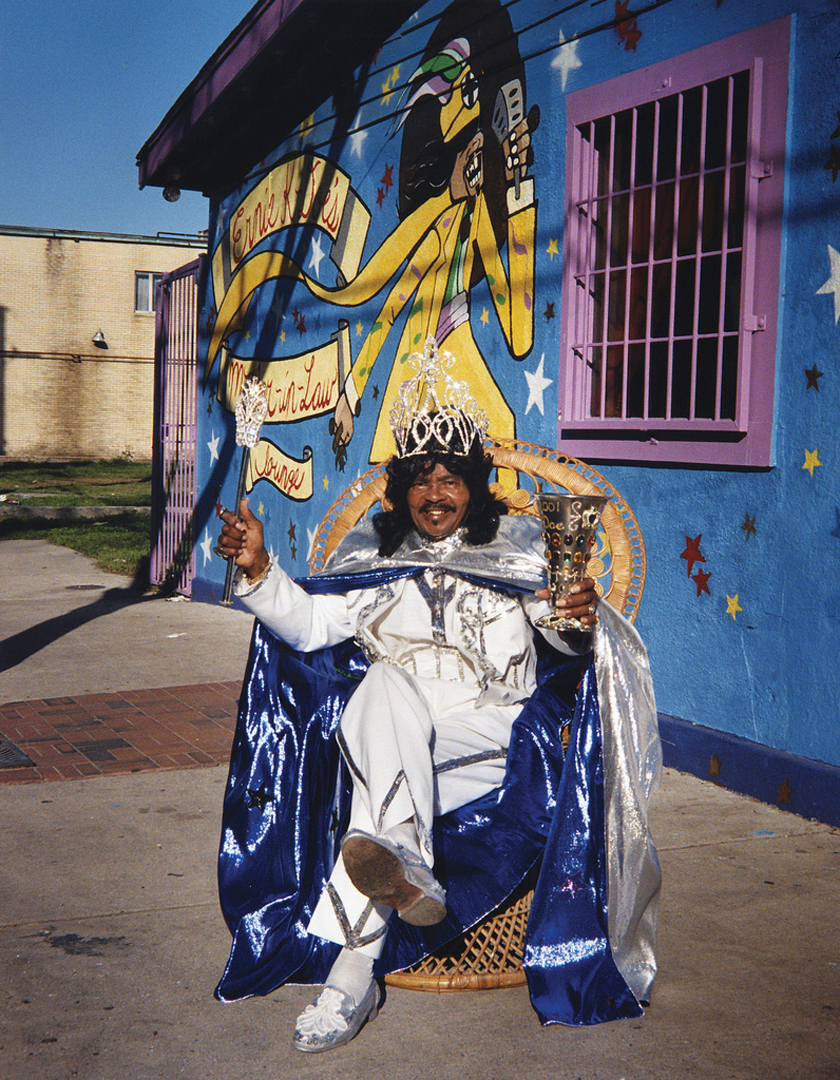 The Emperor in his Realm
Ernie K-Doe in 2001, the year of his death and his reign over Krewe du Vieux. Ernie said that he had lots of pictures of him being a King but he wanted another photo taken since he was really the Emperor of the Universe not just a King. So he donned his costume and posed with his scepter & goblet on the sidewalk outside of his cherished realm, the Mother-in-Law Lounge. Many of us believe that he is now functioning as the Emperor of the Afterlife!!!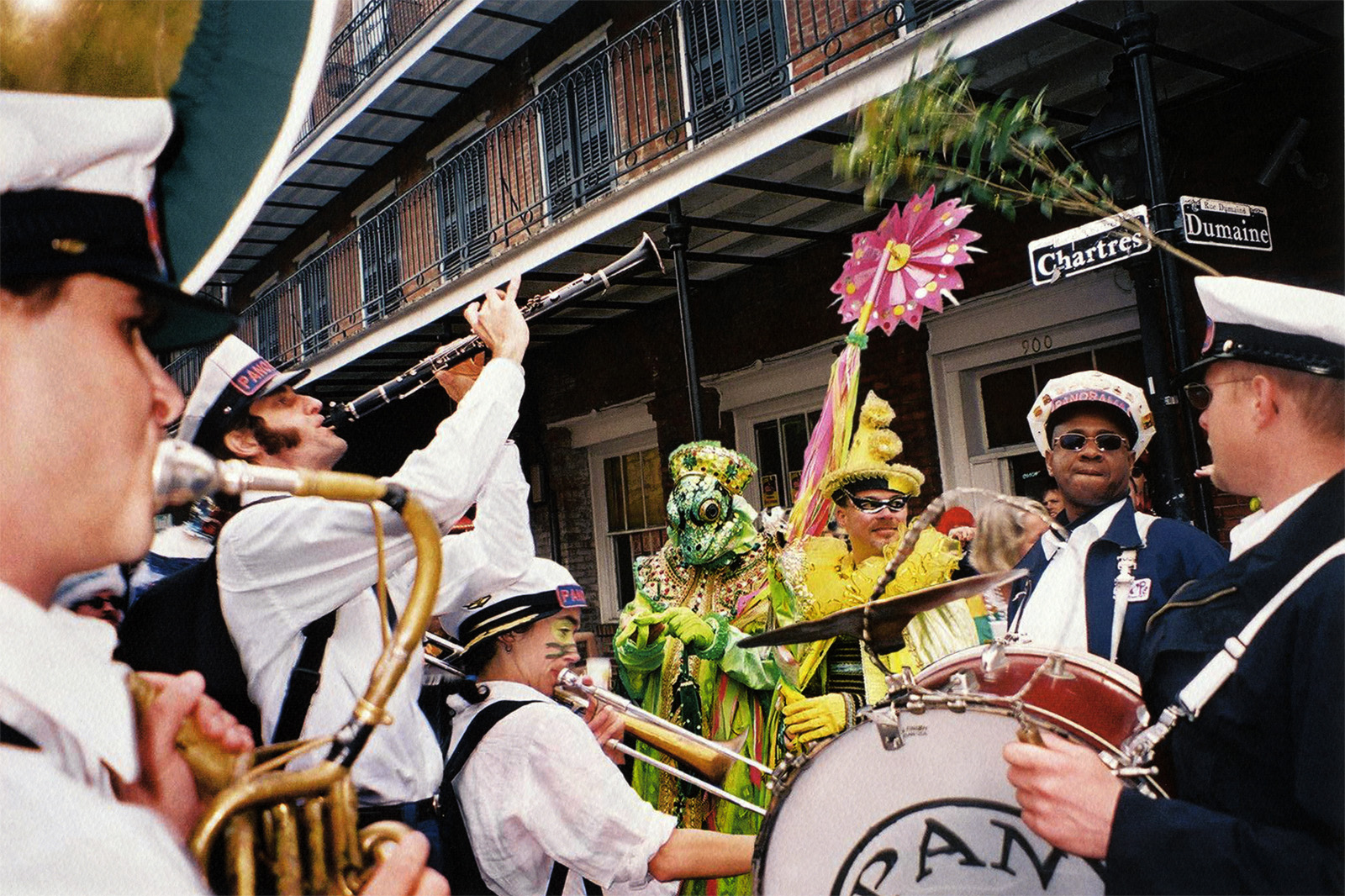 Panorama Jazz Band Carnivalizing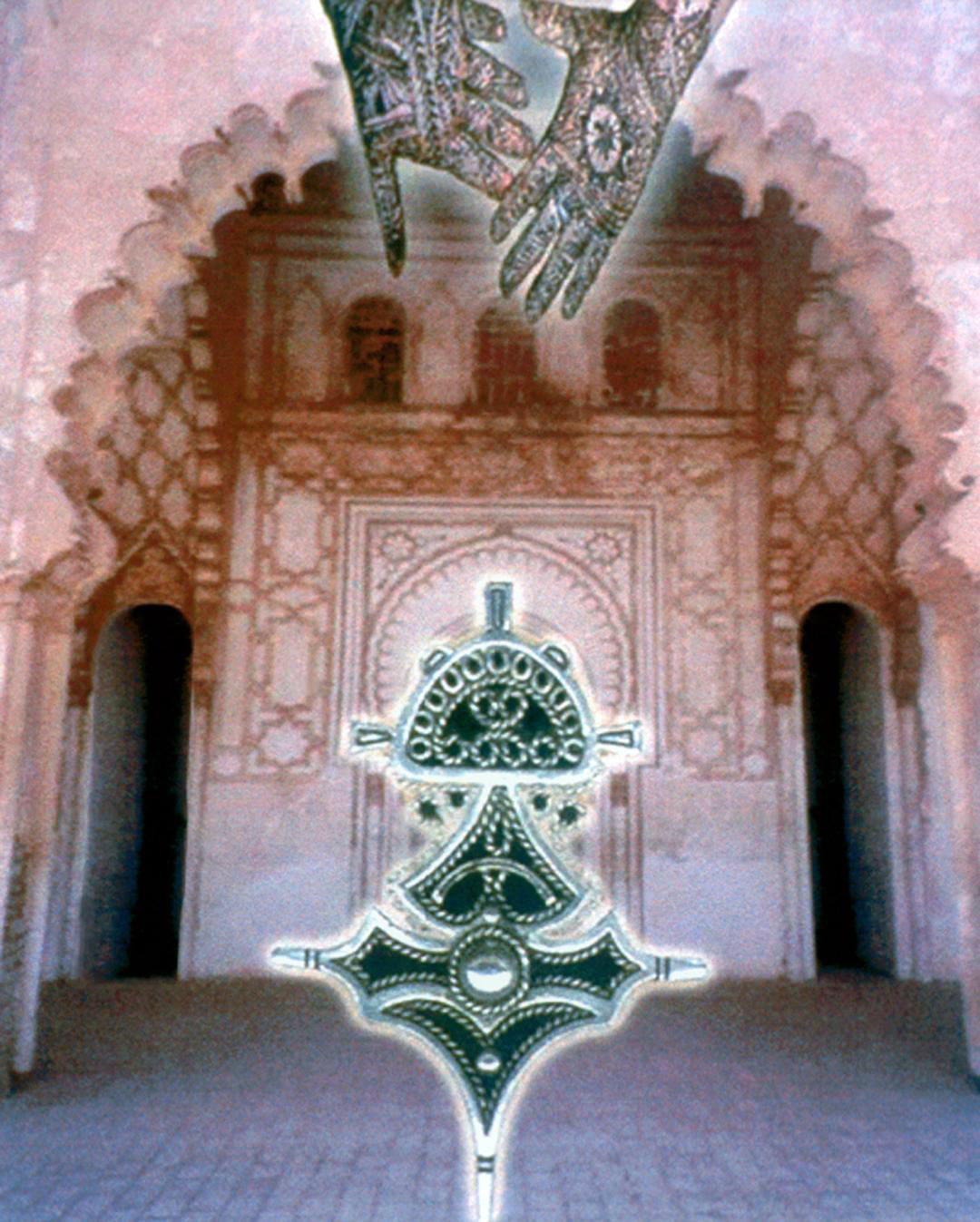 Sovereign Sultantress
This is my favorite Photoshop creation where I combined three images taken in Morocco. The main photo is a 15th century mosque. I added a jewelry design known as the southern cross with notches based on stages of the moon matched to the Southern Cross constellation which is used as a compass by the twarigs to navigate the desert in the Western Hemisphere. Then I added a glow around a photo of my hands artistically covered with middle eastern henna designs. In India, this art form is knows as mahendi. In Morocco, the role of Henna transcends that of beauty. In harmony with the Berber's belief in Baraka (good luck), henna worn on the body offers protection against illness, the evil eye and brings joy. Even before going to Marrakech to find a hotel, my first stop in Morocco was a Berber Village called Asni where I instantly met brothers who invited us to their home for dinner as our adventures began. We had rented a car in Casablanca which enabled them to take us on day trips to explore many places in their region ... amazing walnut groves ... the highest point in their country to see a water fall .... to what seemed to be wilderness to find this abandoned mosque in this photo many hours from their village.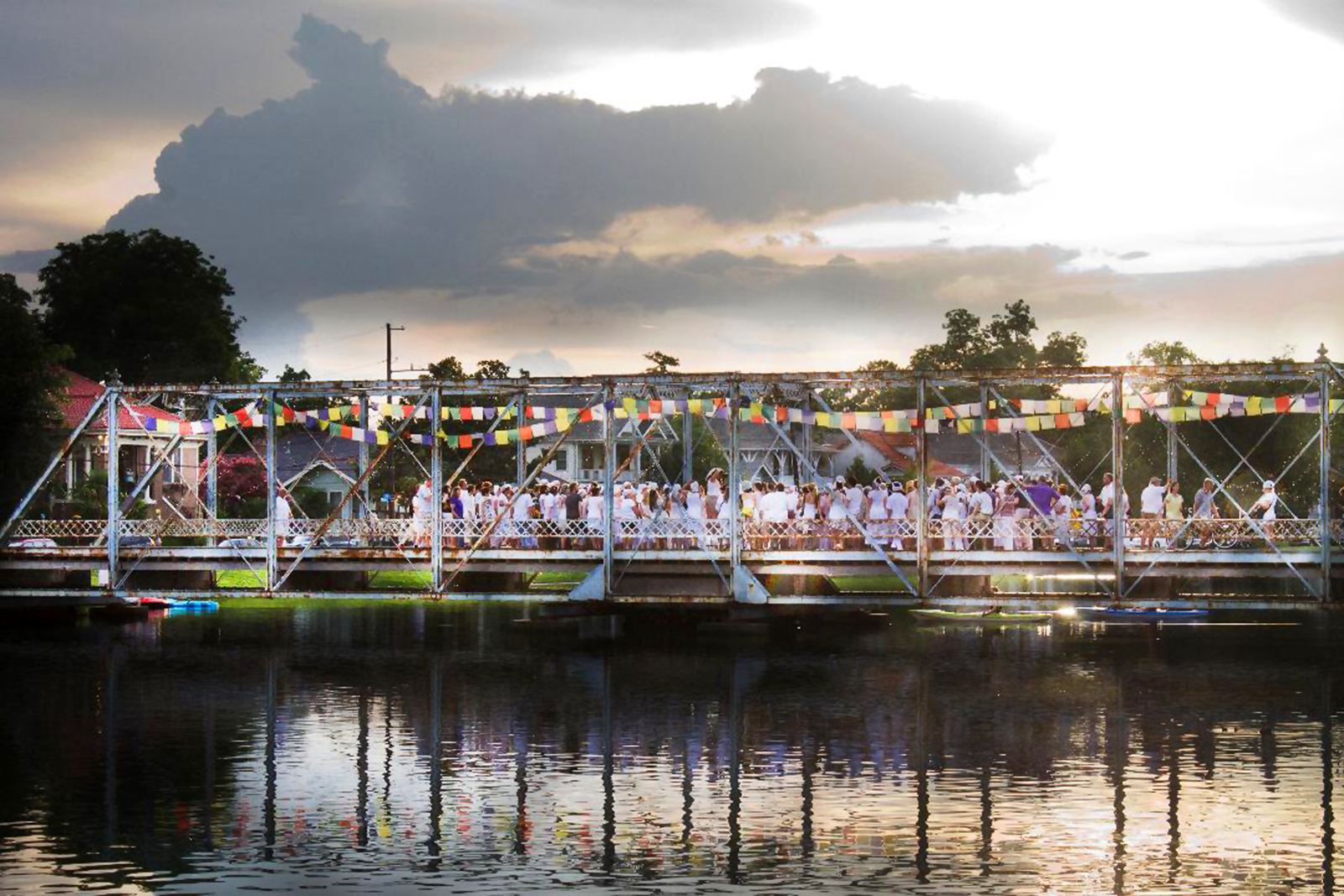 Saint John's Eve Ceremony
St John's Eve ceremony on the Magnolia Bridge over Bayou St. John with Tibetan prayer flags traditionally hung to inspire compassion, strength, peace and wisdom in honoring His Holiness the Dalai Lama's visit to New Orleans May, 2013.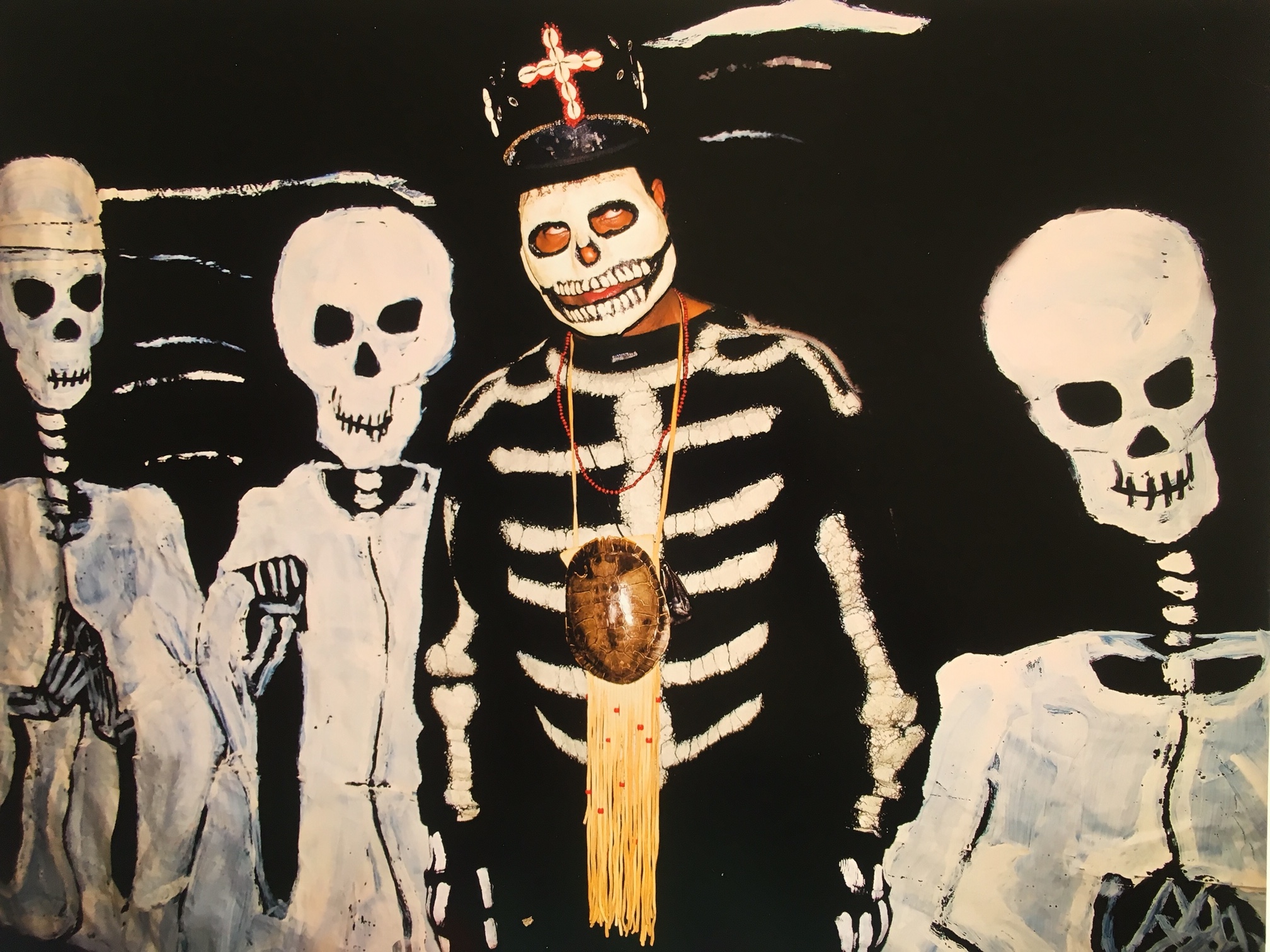 Sunpie's Spell
No need explaining Sunpie since he is the Chief Skeleton with the North Side Skull and Bone Gang and a great musician!! This photo was taken at the astounding Anba Dlo Celebration in the New Orleans Healing Center. Anba Dlo is a Haitian Creole phrase that means "beneath the waters."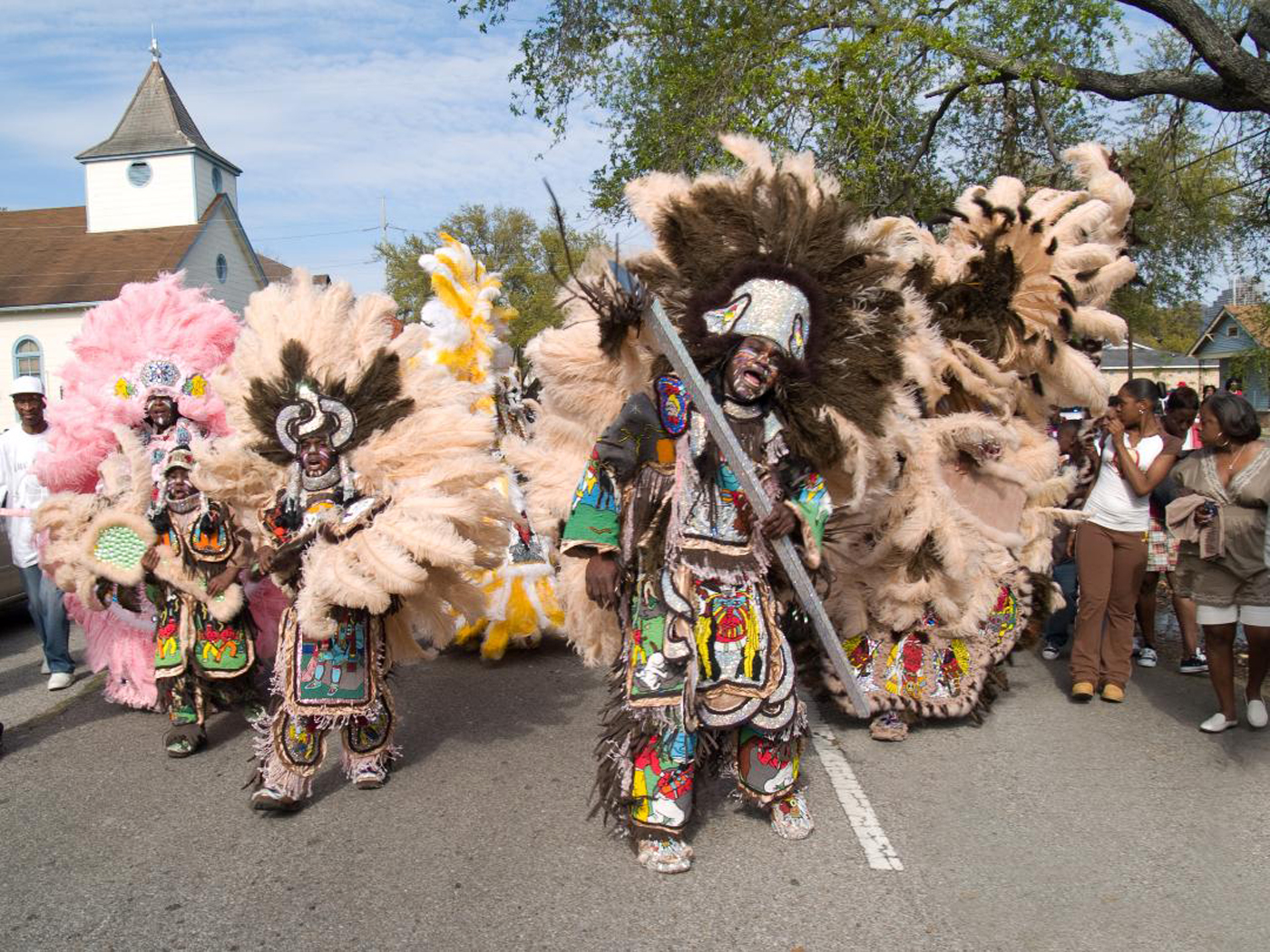 Super Serene Sunday
In keeping with traditions that date back to the 19th century, on Super Sunday in New Orleans Mardi Gras Indians come out in their colorful breathtaking crowns and handmade suits to "strut their stuff" in a procession through the streets where onlookers admire their amazing creativity. The participating tribes, led by their Big Chiefs, often meet other tribes performing colorful dances, chants and other captivating rituals.
Once a strictly underground culture completely off the general public's radar, Mardi Gras Indians are now widely recognized as a vital living art form, attracting the interest of museum curators, TV and documentary producers and the National Endowment for the Arts. Two legendary Big Chiefs, Allison "Tootie" Montana of the Yellow Pocahontas and Theodore Emile "Bo" Dollis of the Wild Magnolias, received the National Heritage Fellowship, considered the nation's top honor in folk and traditional arts.
This photo is of the oldest Mardi Gras Indian tribe in New Orleans, the Creole Wild West, with an animated Spyboy Walter out front as they march along Magnolia Street in 2007. Sadly, this part of the Uptown route, with its lovely neutral ground trees, has been discontinued.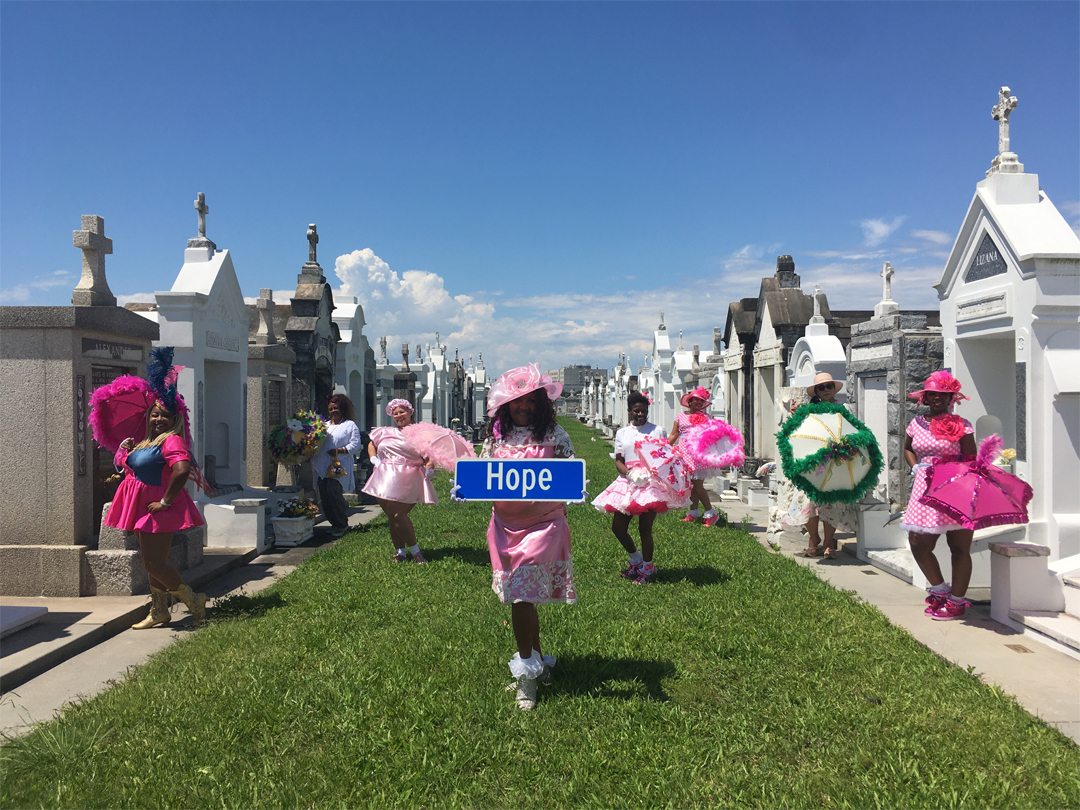 HOPE For NOLA
Baby Dolls gathered at St Louis Cemetery #3 for a tribute to Eva Louis Perry, better known as "Tee Eva," co-founder, along with Antoinette K-Doe, of the Ernie K-Doe Baby Dolls. They are credited for bringing the culturally significant tradition back to life to support Miriam Batiste, sister of Uncle Lionel Batiste of the Tremé Brass Band fame and last surviving baby doll of the old-line New Orleans culture. Seamstress Antoinette was already making matching costumes for her legendary husband Ernie K-Doe, herself and Tee Eva since they were his back-up singers. They invited friends to join them in celebrating Mardi Gras and offered to help create costumes. The baby doll Carnival tradition is now in full swing, alive and kicking!!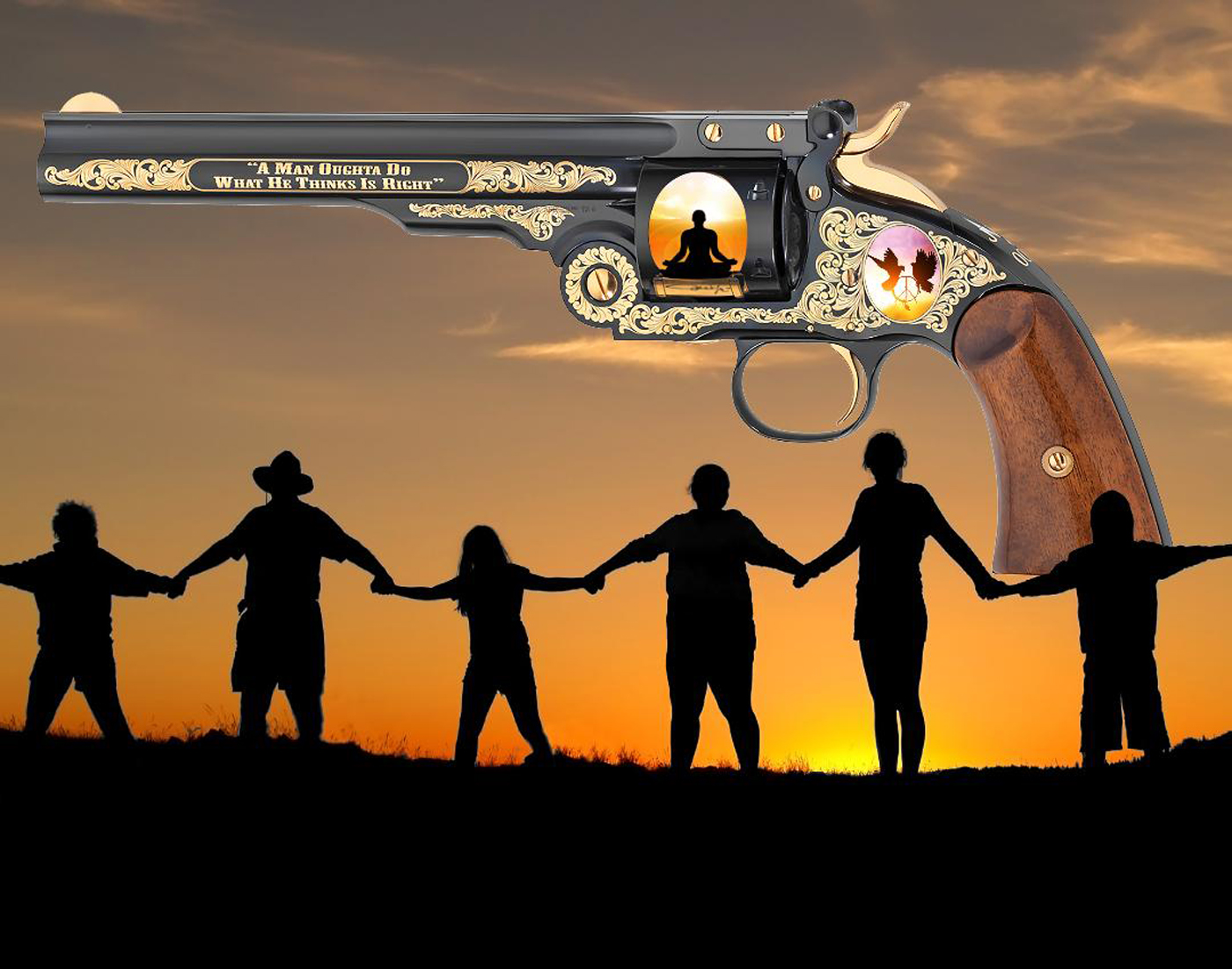 Peace Countermands Violence
A Man Oughta Do What He Thinks Is Right is the sub
title of my Photoshop creation taken from a John Wayne quote from the 1953 film Hondo
. My art project was conceived for
"The Deadly Ambiguity of Guns" Exhibit envisioned by local attorney Mark Gonzalez as part of a 3 tiered International exhibit entitled "Building A Peaceable Community" during the Prospect 4 citywide Triennial of Contemporary Art show at the New Orleans Art Center Satellite Gallery. This was a Publicly Juried Show with prizes awarded at the end of the opening reception. There were 60 artists featured in the show and my piece won the third place prize!! Yippee!!
I chose an antique iconic firearm rooted in the Old West days for my gun project. Peace is symbolized by the family with hands joined in unity and depicted by the image of doves holding an olive branch plus illustrated by the image of a man in lotus position portraying meditation as a means of actively seeking a peaceful spirit.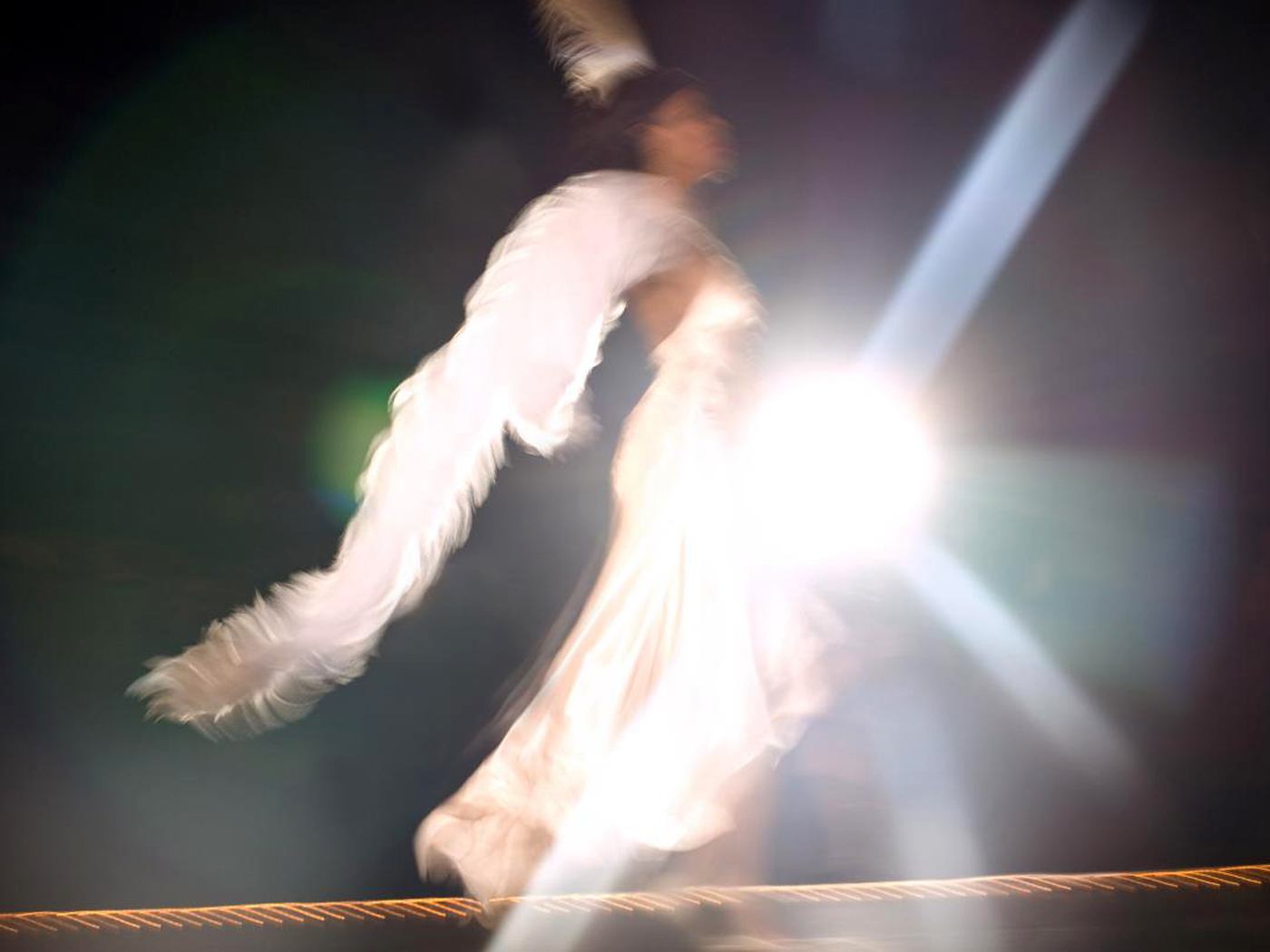 Scintillant Satyricon
I have a penchant for the variants of light through movement.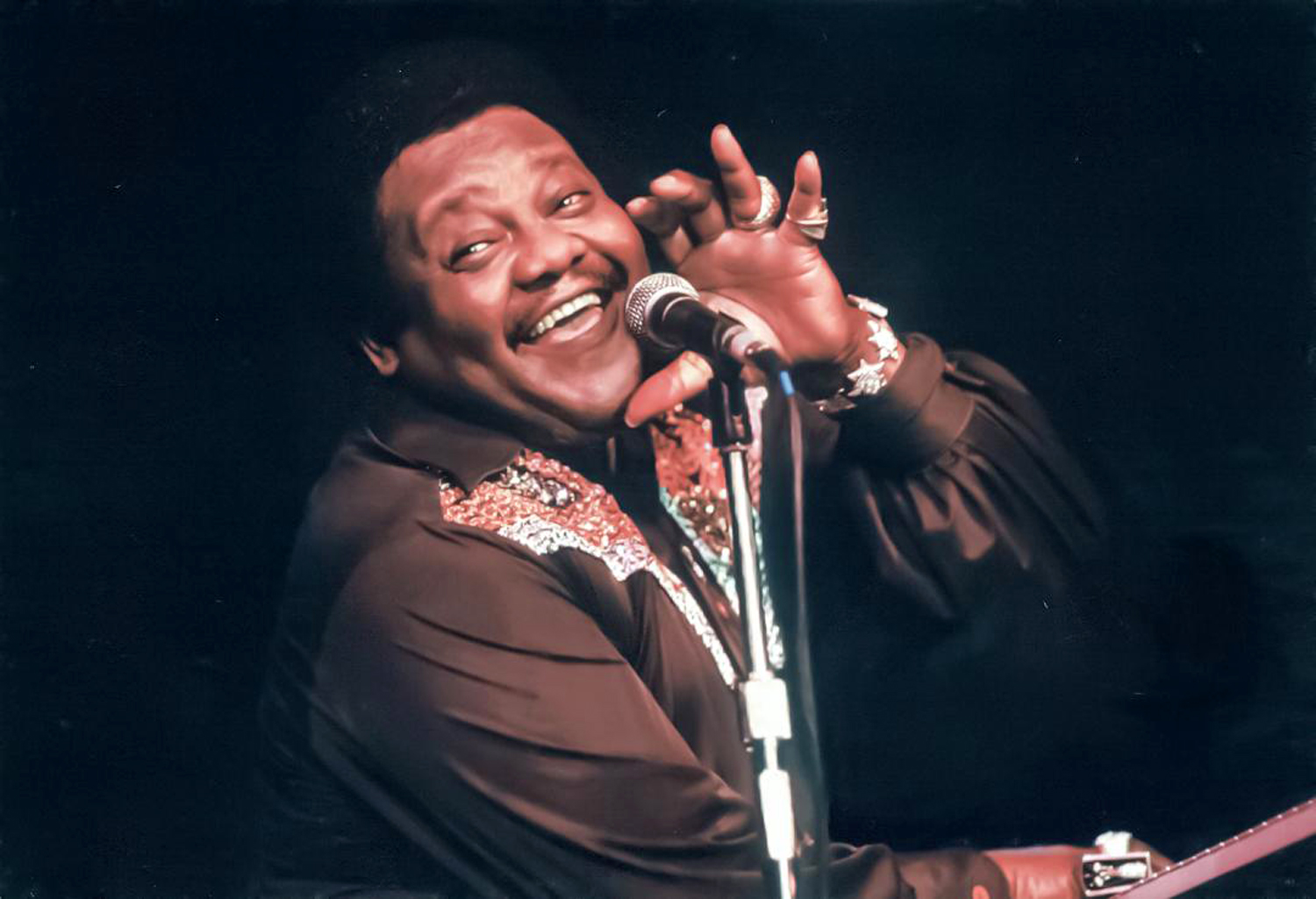 Fats Domino
In the 20th century, Antoine "Fats" Domino Jr. is right up there with Louis Armstrong as an ambassador of our culture to the wider world. The boogie-woogie and R&B pianist, singer and songwriter was one of the pioneers and biggest stars in creating the rock and roll era, outselling every 1950s act except Elvis. In a career spanning more than five decades Domino had 25 gold singles, 35 records in the U.S. Billboard Top 40 and sold more than 65 million records with 5 selling more than a million copies. He won several Lifetime Achievement Awards and along with his esteemed collaborator Dave Bartholomew was a Grammy Hall of Fame award winner. In spite of his success and many accolades, Fats was a shy and humble man with a smile that lit up a room.
I hung out with Fats and his band in France in 1985, both in Paris and in Nice where I took a great B&W photo of him with Dave Bartholomew and Buster Holmes. Somewhere I also have a neat photo of their feet that I took at the same time because Fats always wore two-toned shoes as did Buster.
Fats traveled with a trunk just for his two-toned shoes sporting many black and white pairs as well as blue and white and red and white ones. Because he did not like the food in Europe, the trunk had a fake bottom where he hid packs of red beans and rice plus a hot plate cooktop with adaptor plugs to handle the voltage differences in other countries.
He loved cooking and hanging out at his home in the Lower Ninth Ward, often stopping to play on one of several pianos throughout the house. Always playing with a smile on his face, Fats was the quintessential New Orleanian until the end.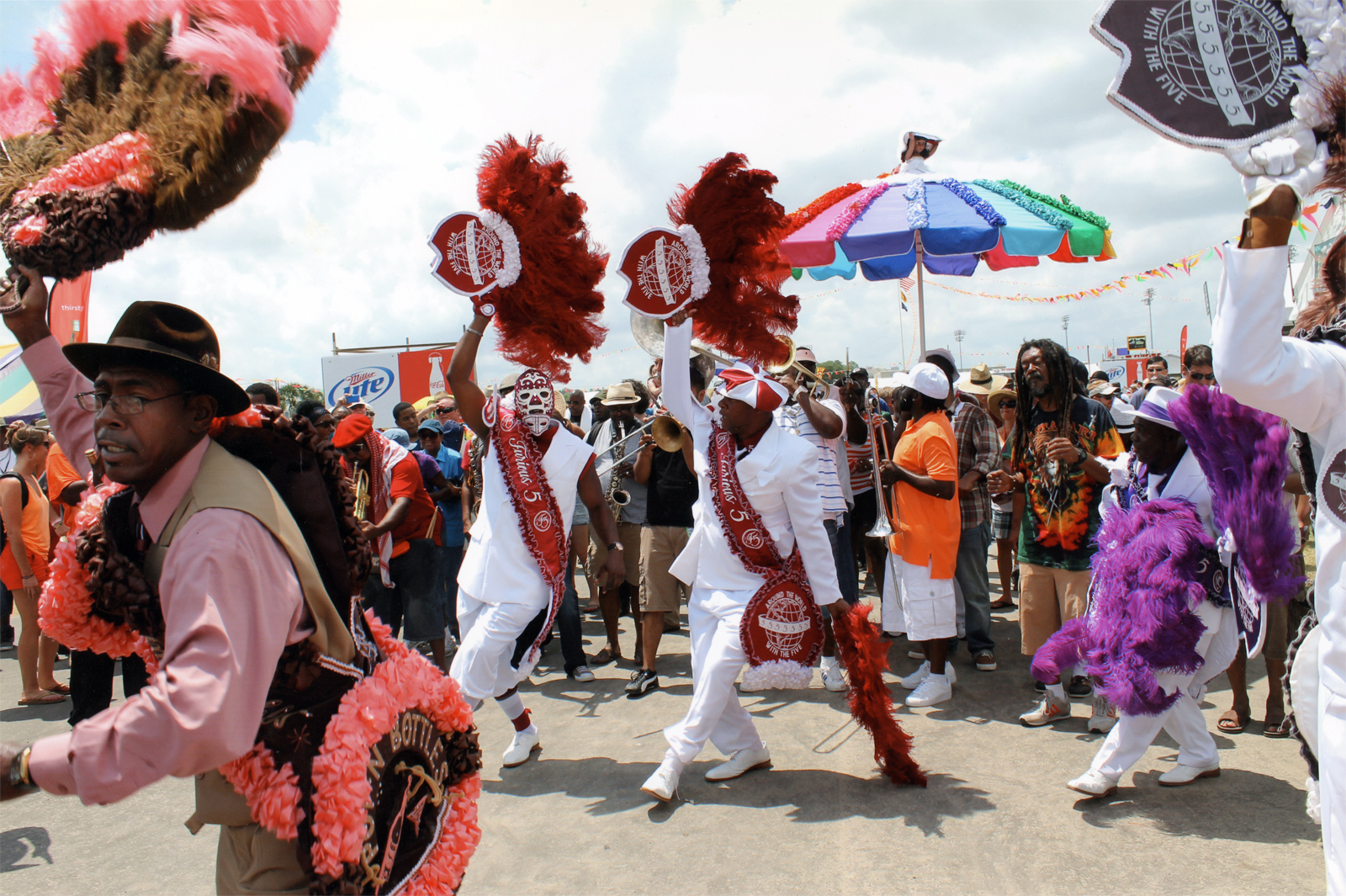 The Furious Five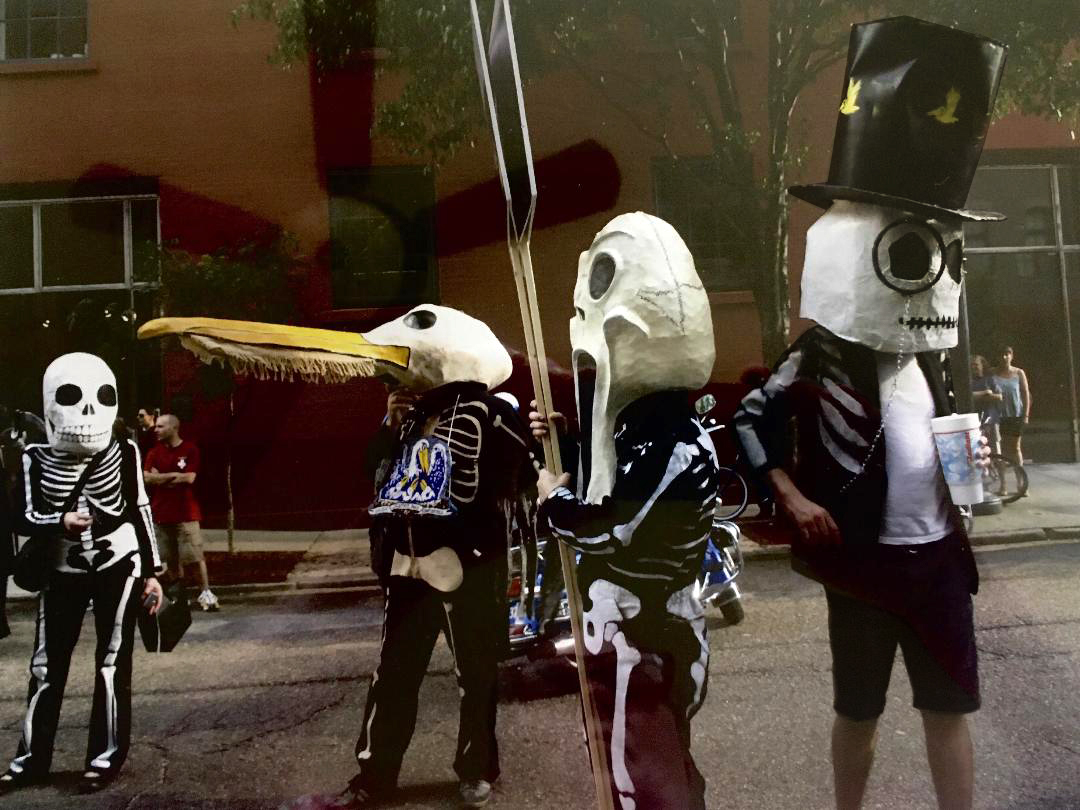 The Krewe of Dead Pelicans formed with the simple mission statement to SAVE THE GULF. Again the water theme surfaces since untainted water is our most essential life souce. The biodiversity of the Gulf of Mexico boosts ecosystem productivity ensuring natural sustainability for all life forms. As one of the most staggeringly productive places on this planet, the Gulf is home to fish, oyster, crabs, shrimp, coral, whales, sea turtles, dolphins and thousands of bird species. The Gulf of Mexico is a major engine for our local (as well as national) economy through our seafood and robust fishing industry, while recreational fishing and tourism depend on the Gulf's brilliant waters. Many people rely on its unique habitats.
Oh, Banana
This stunning photo was selected by jurors and curators for three different exhibitions.
I was thrilled the first time (well, all times!!) because of my respect for the work and the amazing projects of the juror Deborah Luster, as well as it being the inaugural show of the New Orleans Photo Alliance where not many members were selected ... so I was excited and proud!!
Oh, Banana was taken at MOMs Ball. I Photoshopped people out of the background to create the stark black contrast and also took off that horrible plastic entry wristband and a couple of moles. I have not seen the model in the many years since Katrina. Her name is Stephanie, a talented and intuitive massage artist.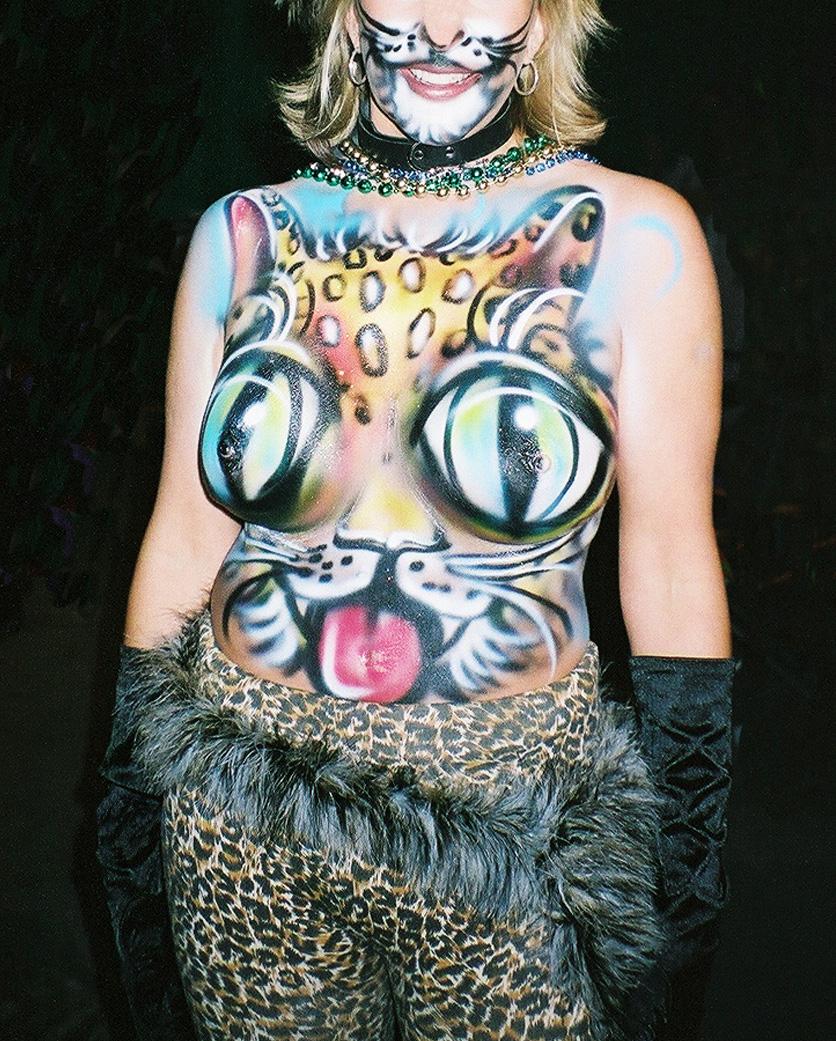 Cat Eyes
Superb Skin Airbrush Technique.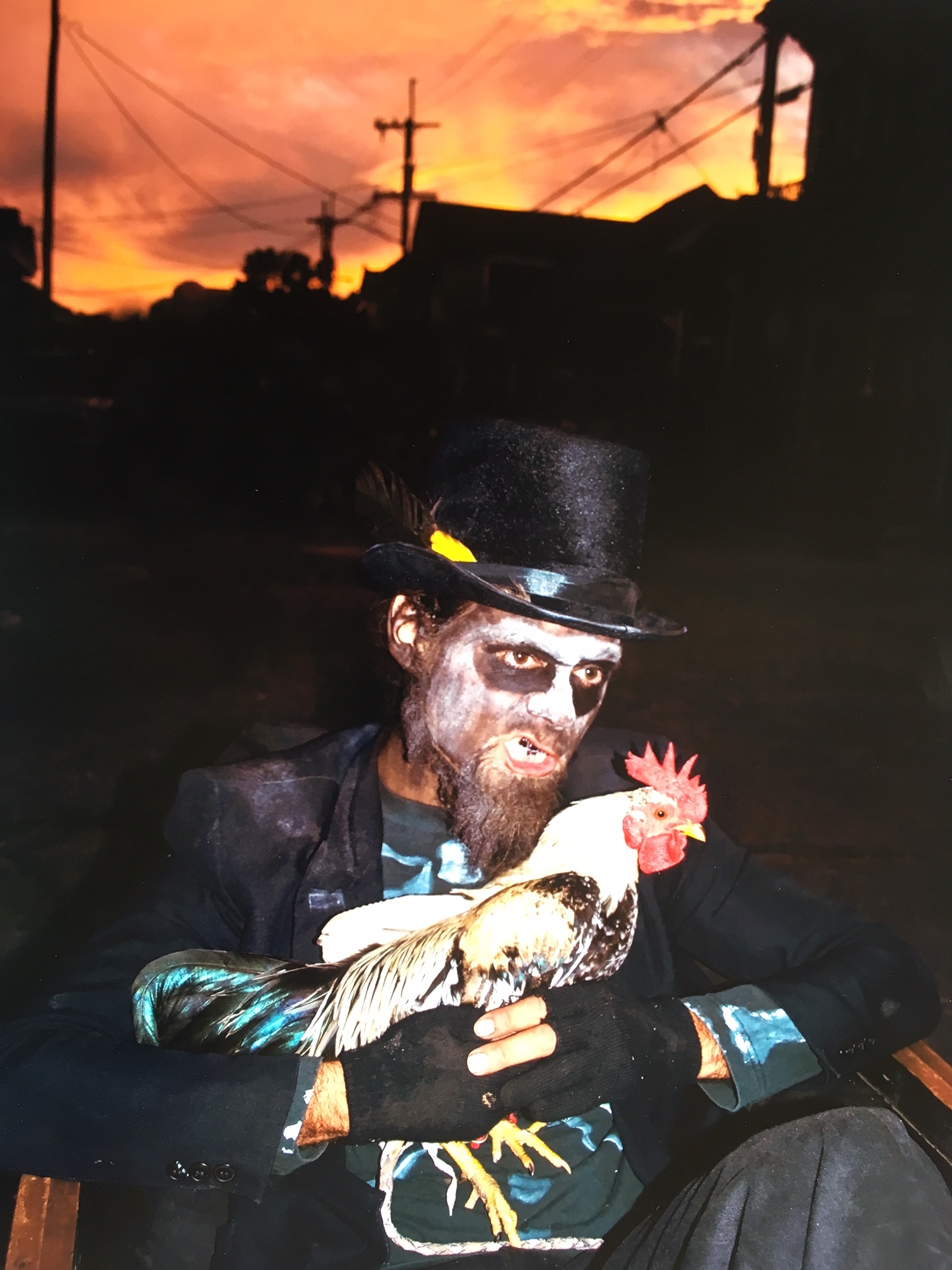 Poulet à Risque
This photo was taken at the 6t'9 Social Aid & Pleasure Club Halloween Parade in Treme during one of the most amazing sunsets I have ever seen in New Orleans. It was an ethereal experience being enveloped in such intense colors both in the stunning sky and the passing joyful energy sheathed in inventive fascinating costumes. In order to capture a close up, what is not seen is that the skelly man is peddling a coffin. As is frequently said, Only in New Orleans!!!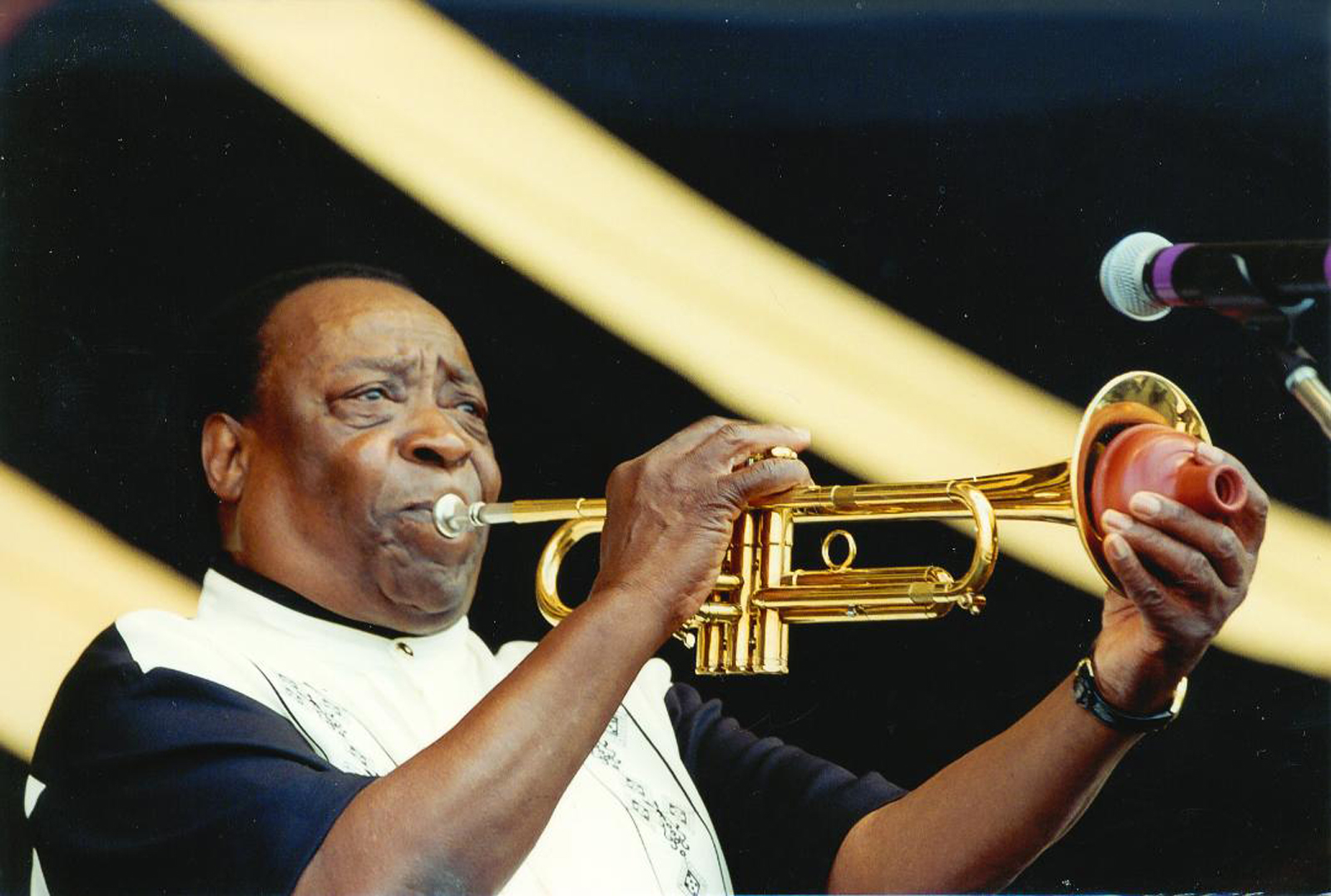 Dave Bartholomew
Guys like Dave Bartholomew come along once in a lifetime. The list of musicians for whom he opened doors for is endless. Many covered his songs and benefitted from his graciousness and talent as a producer. Among the New Orleans notables: Fats Domino, Smiley Lewis, Tuts Washington, Allen Toussaint, Huey Smith, James Booker, Snooks Eaglin, Tommy Ridgley, Earl King, Frankie Ford and Edward Frank.
Born Davis, Dave developed writing and arranging skills as a member of the 196th Army Ground Forces Band during World War II. Active in many musical genres, he was a trumpet player, composer/songwriter, arranger, record producer, big-band leader, great businessman as well as a kindhearted man. His partnership with Fats Domino produced some of his greatest successes. He was a member of the Songwriters Hall of Fame, the Rock and Roll Hall of Fame, the Louisiana Music Hall of Fame and was a multi-award winner. They say Dave had over 4,000 songs in his catalog.
Earl Palmer took me to Dave's house in the early 1980's solidifying a decades-long friendship with him and his family so I was invited to attend great events and celebrations. He liked that we were both Capricorns and came to a couple of my birthday parties. He played a free concert in Jackson Square as a favor in the 1980s when I was programming Jazz Awareness Month, only wanting his band members paid. We had many fun telephone conversations in his later years.
I sadly missed what would have been my last opportunity to hug him at his 100th birthday party but tragically he missed being with his friends and admirers honoring and commemorating his milestone as the event was cancelled because he was hospitalized. Dave was loved and appreciated by many.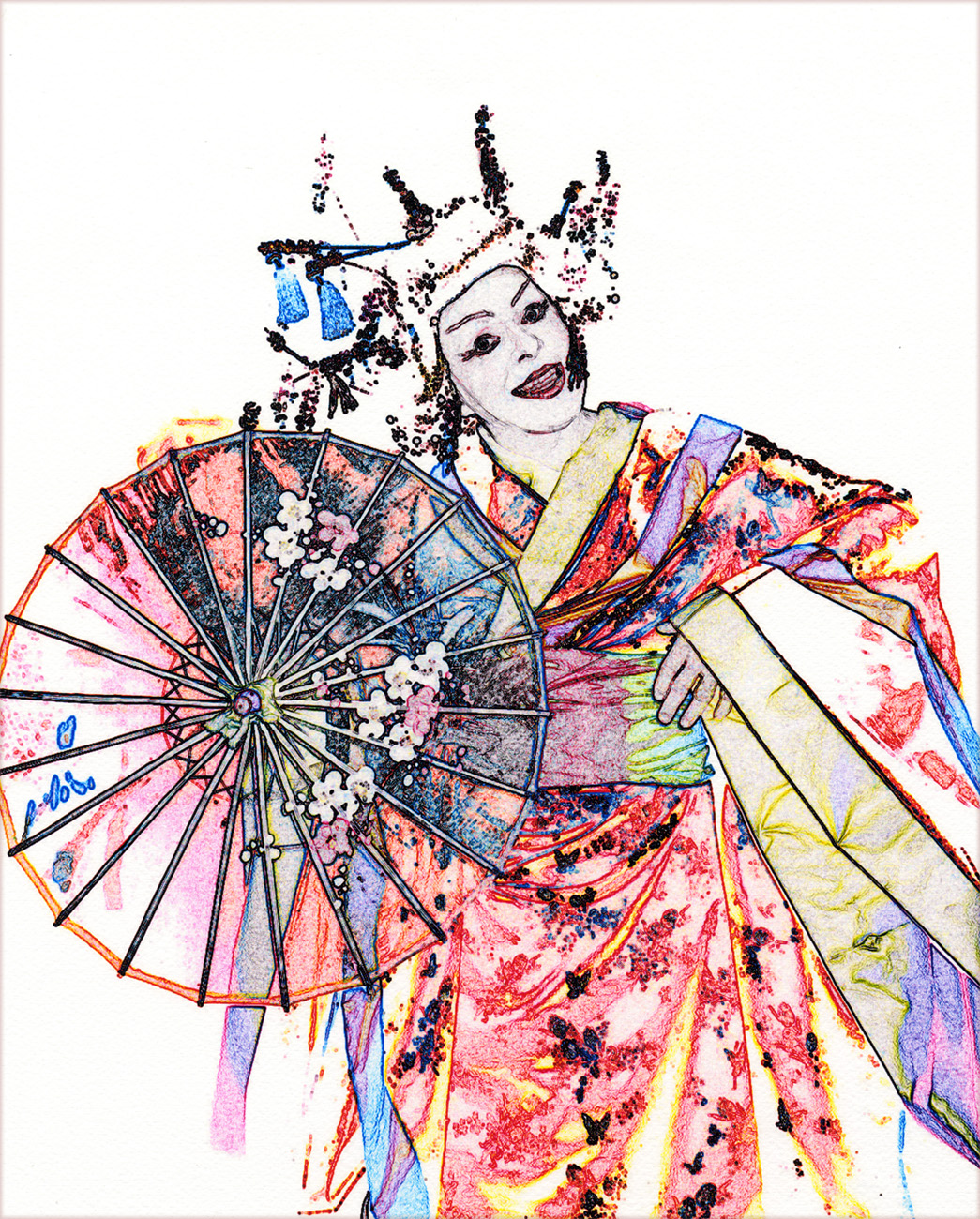 Geisha's Edge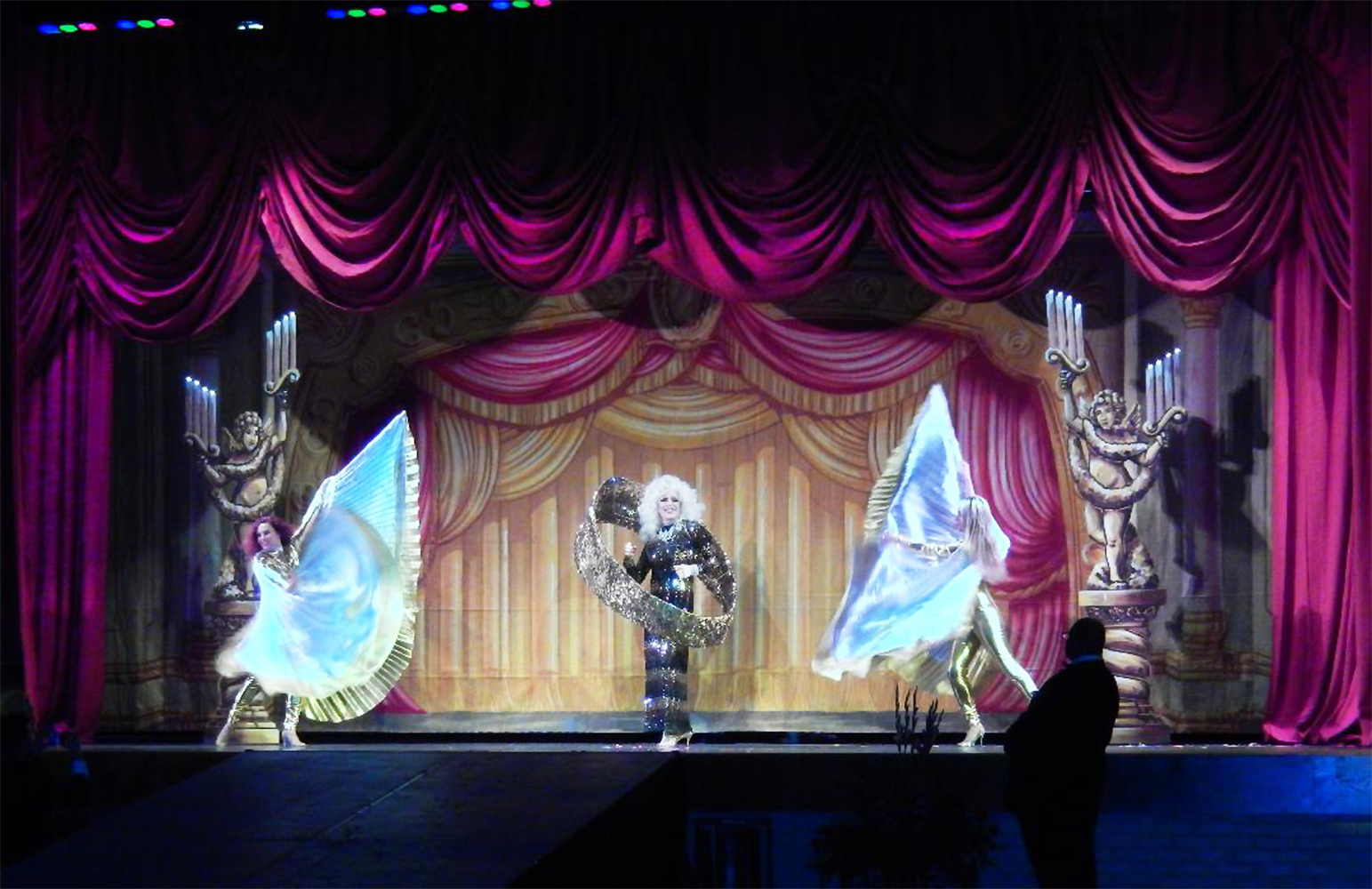 Satyricon
Carl Mack's
Ring of Fire
performance at the Satyricon Ball.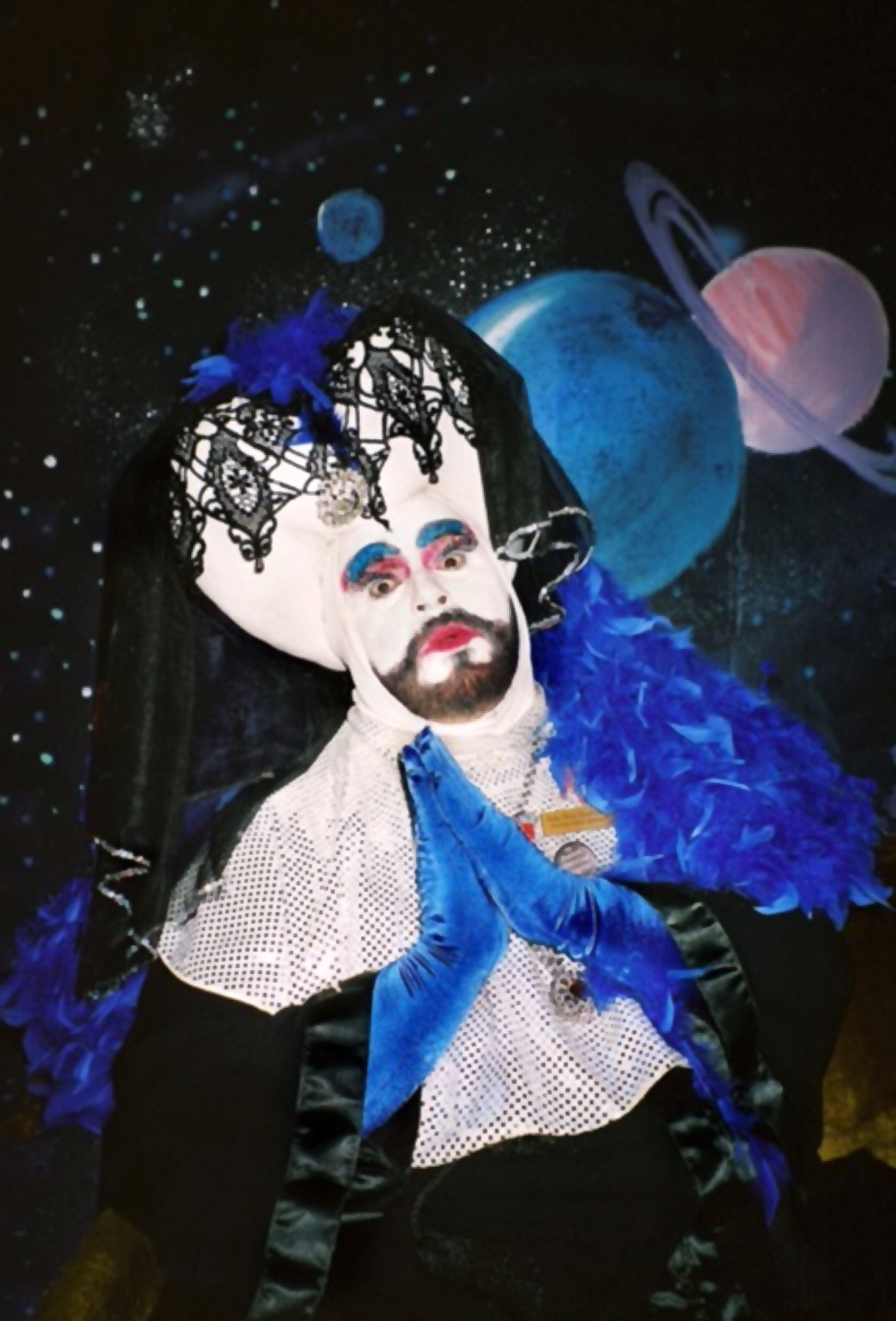 Celestial Vestal
Sister Claire of the Sisters of Perpetual Indulgence.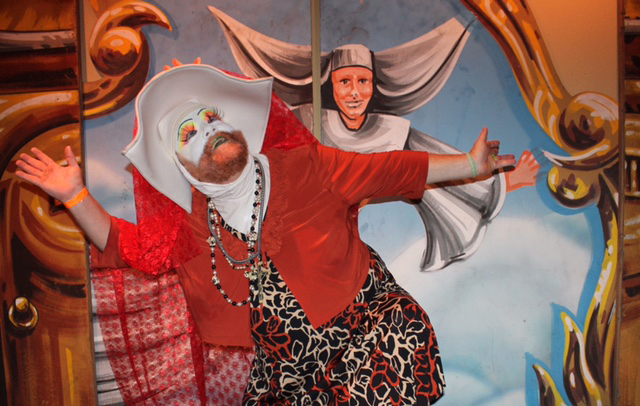 Fleeting Absolution
Sisters of Perpetual Indulgence.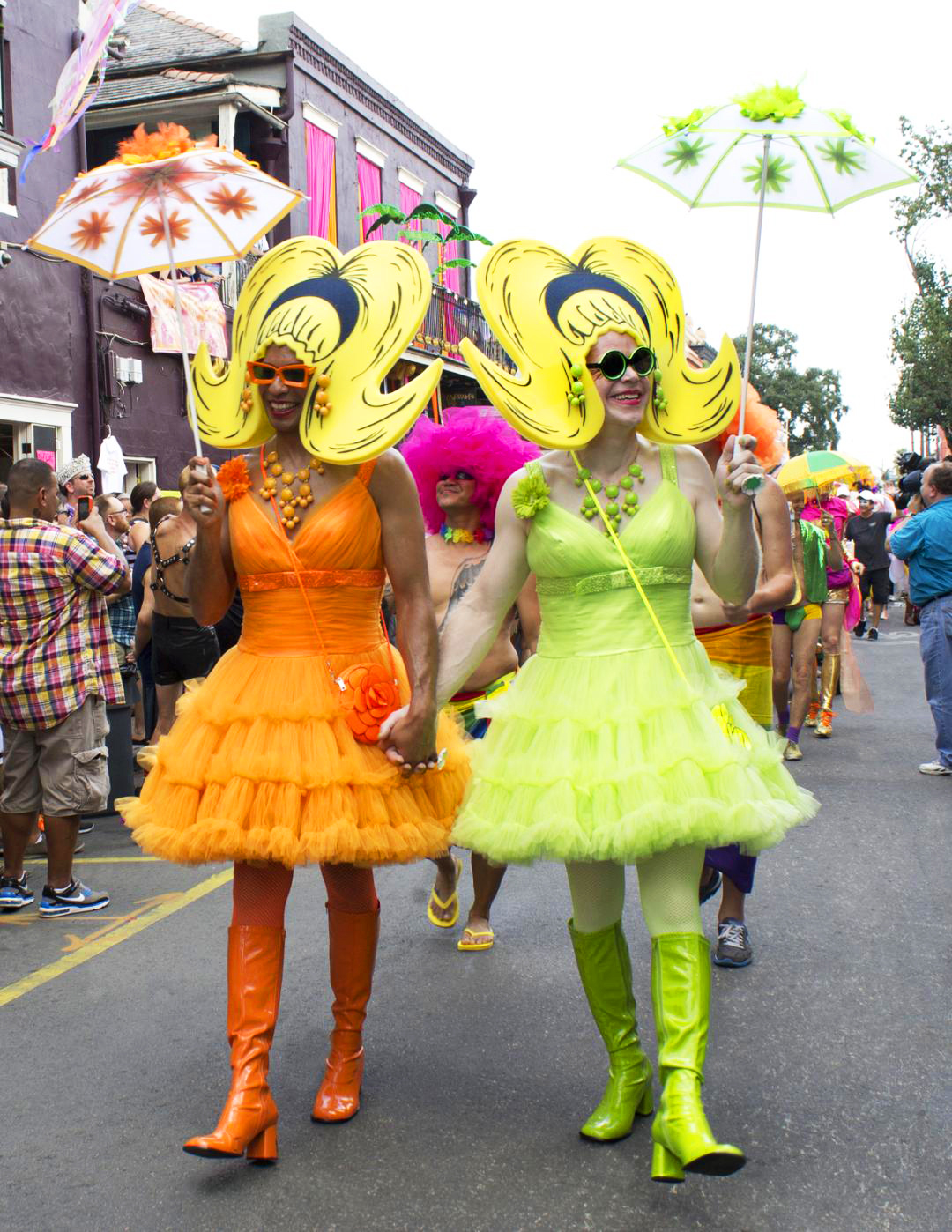 Hand in Hand DecaDancin'
Southern Decadence Parade in the French Quarter - Labor Day Weekend in New Orleans. I photoshopped a couple of people off the balcony because they were in ugly street clothes!!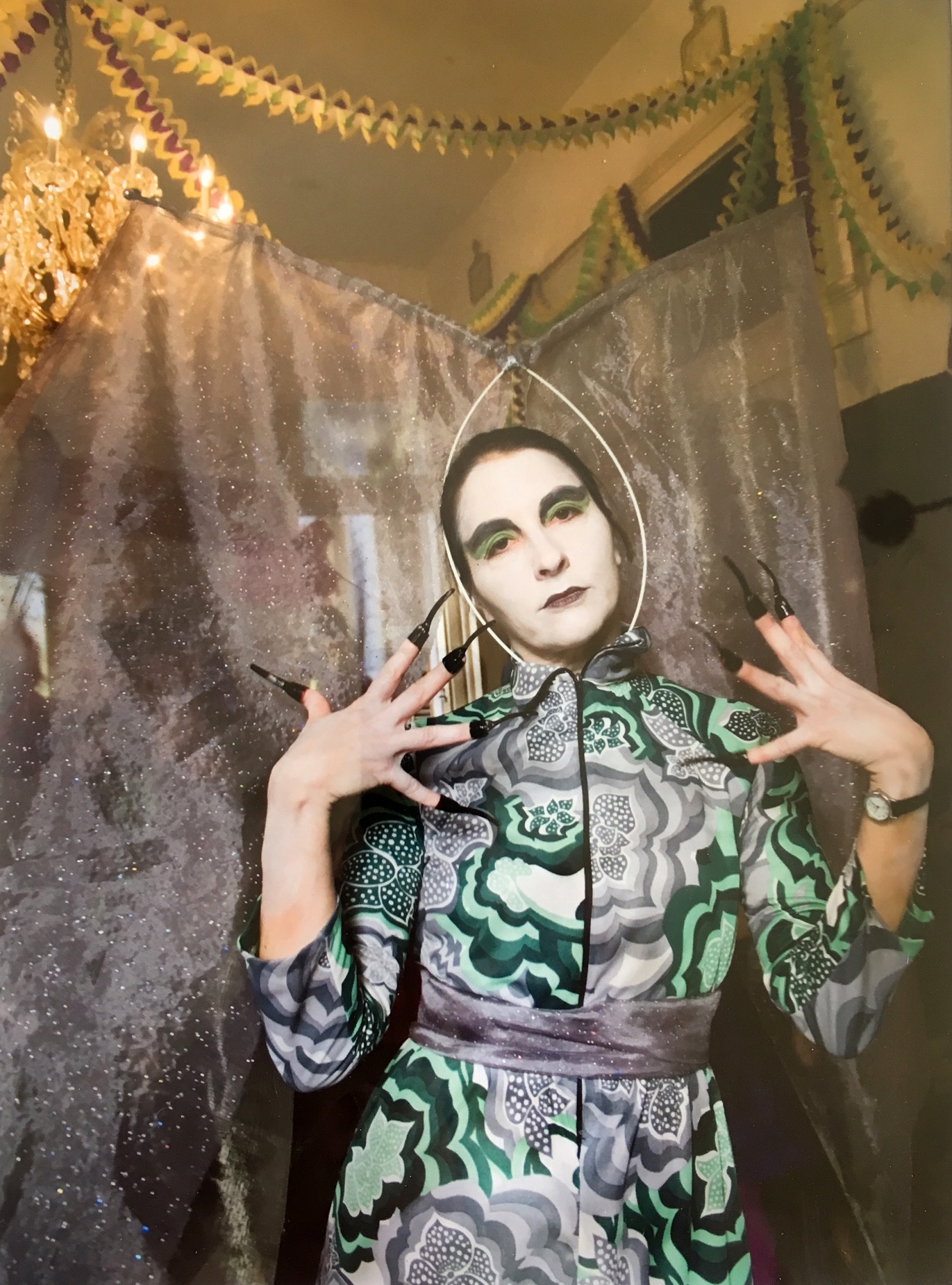 I Used My Claws to Survive
This poignant photo was taken at an early morning Secret Society of Saint Anne Bywater festivity celebrating our first Mardi Gras together after Katrina.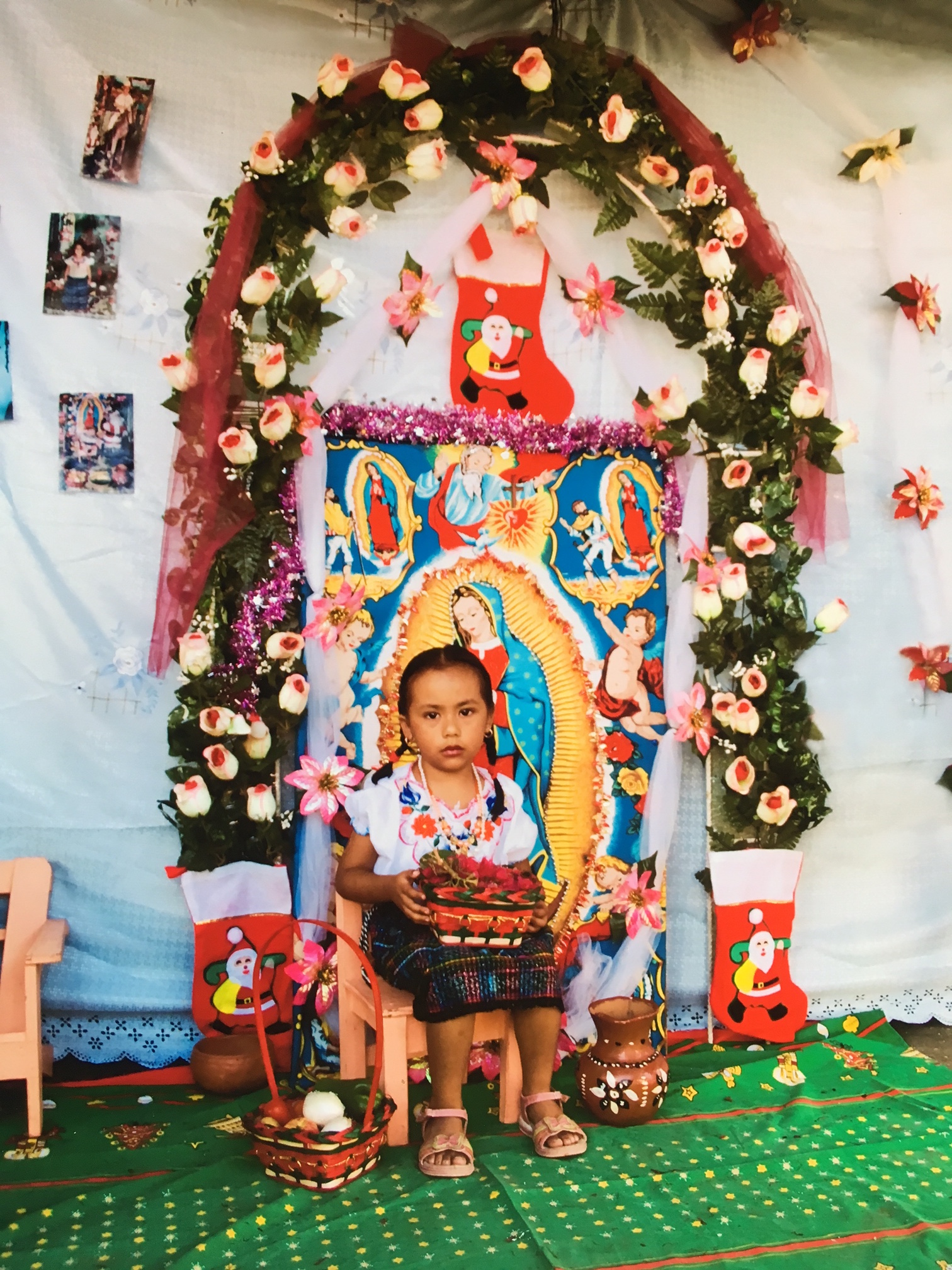 La Virgen Morena
This photo was taken outside a church in Costa Maya, Guatemala during the day of La Virgen Morena, also known as the Virgin of Guadalupe or the Lady of Guadalupe. La Virgen Morena, the brown virgin, is what the Nuestra Senora de Guadalupe is sometimes called in Mexico where the miracle of the roses occurred with Juan Diego. There are two huge churches plus 3 chapels in one location in Mexico City that are dedicated to her with one additional chapel honoring Juan Diego which houses his tilma (mantle or cloak) imprinted with the miracle of the roses.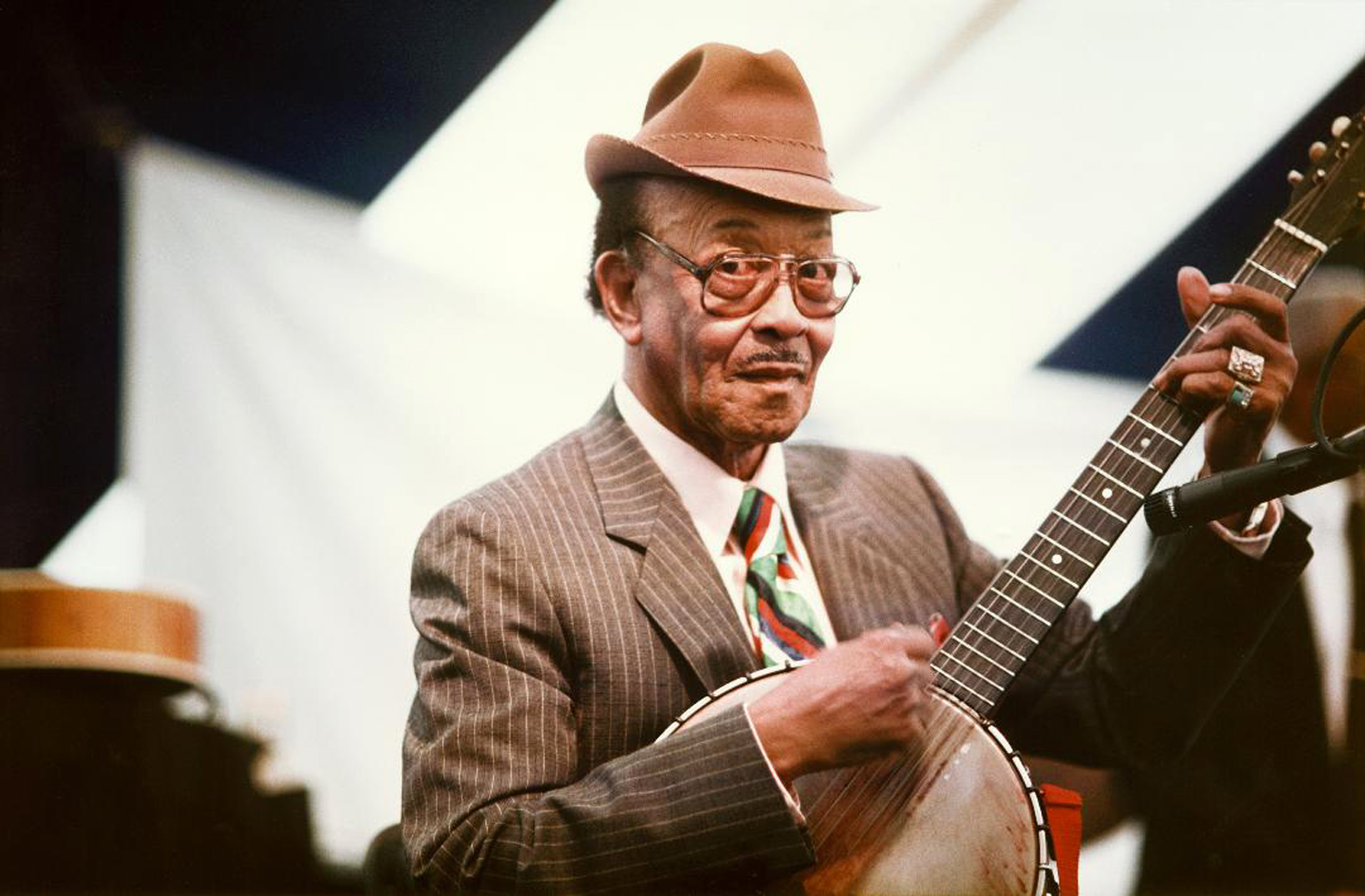 Danny Barker
After my mother was widowed, Danny called to offer condolences then put Blue Lu on the phone to say that we would now be part of their family. Lu loved to entertain so we were invited to all of her gatherings and carport parties.
After Danny's death Nina Buck asked his daughter Sylvia for a photo of him to add to her collection displayed on the walls of her Palm Court Jazz Cafe. Unbeknownst to me, Sylvia told Nina that both her parents had said this photo that I had given them was their favorite taken in the era after their return from New York to live in New Orleans. Nina knew me well because I had worked for her husband George Buck in his office upstairs so she asked me to make a print for her. I burst into tears of joy to learn that my photo, taken at the New Orleans Jazz & Heritage Festival, was important to them as they were so important to me.
Kin to one of New Orleans's most important musical clans, the Barbarin family, Danny was a musician's musician and a delightful storyteller. He appeared on over 1,000 recordings and played with so many greats including Louis Armstrong, Jelly Roll Morton, Charlie Parker, Billie Holiday, Sidney Bechet, Dizzy Gillespie, Lionel Hampton, Benny Carter, Wynton Marsalis and Dr. John. He was a soloist in Cab Calloway's band for eight years and his Fairview Baptist Church Brass Band sowed the seeds of a revival of the brass band tradition among young musicians. Danny was one of my all-time favorite New Orleanians.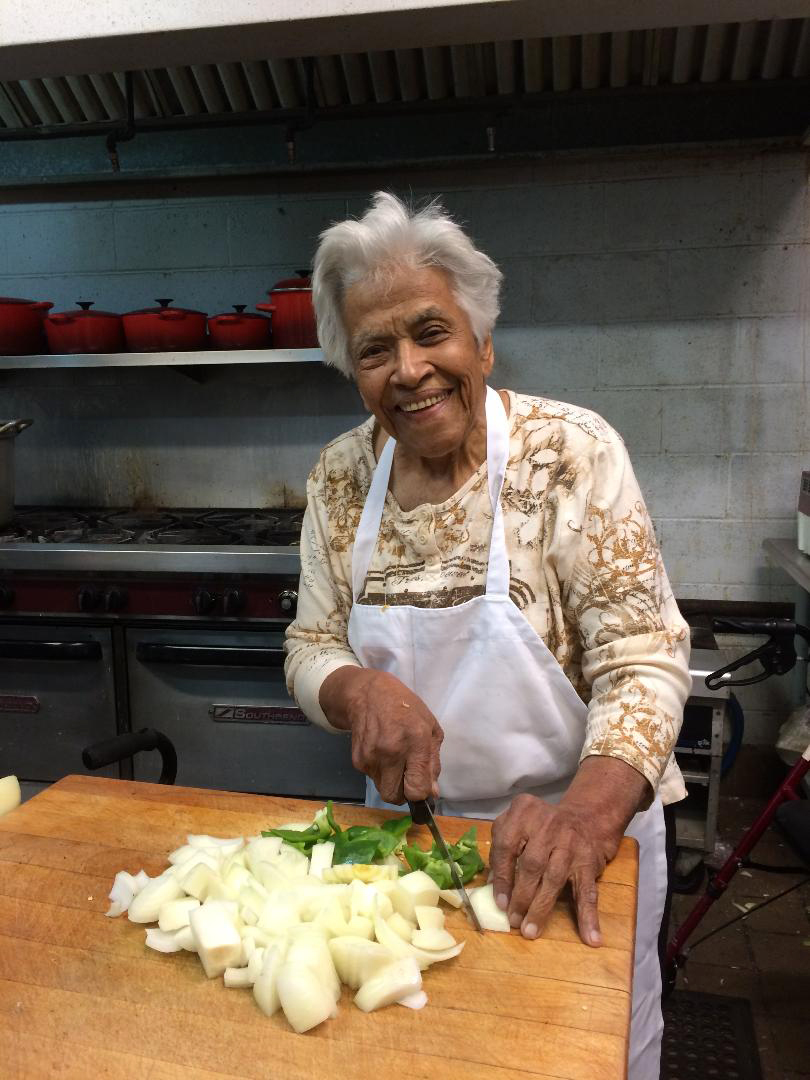 Leah Chase: Queen of Creole Cuisine
Born on the Epiphany, Leah was a woman of Christian character who celebrated life by advocating for New Orleanians, African-american art and Creole Cooking. She could always be found in her beloved kitchen at Dooky Chase Restaurant.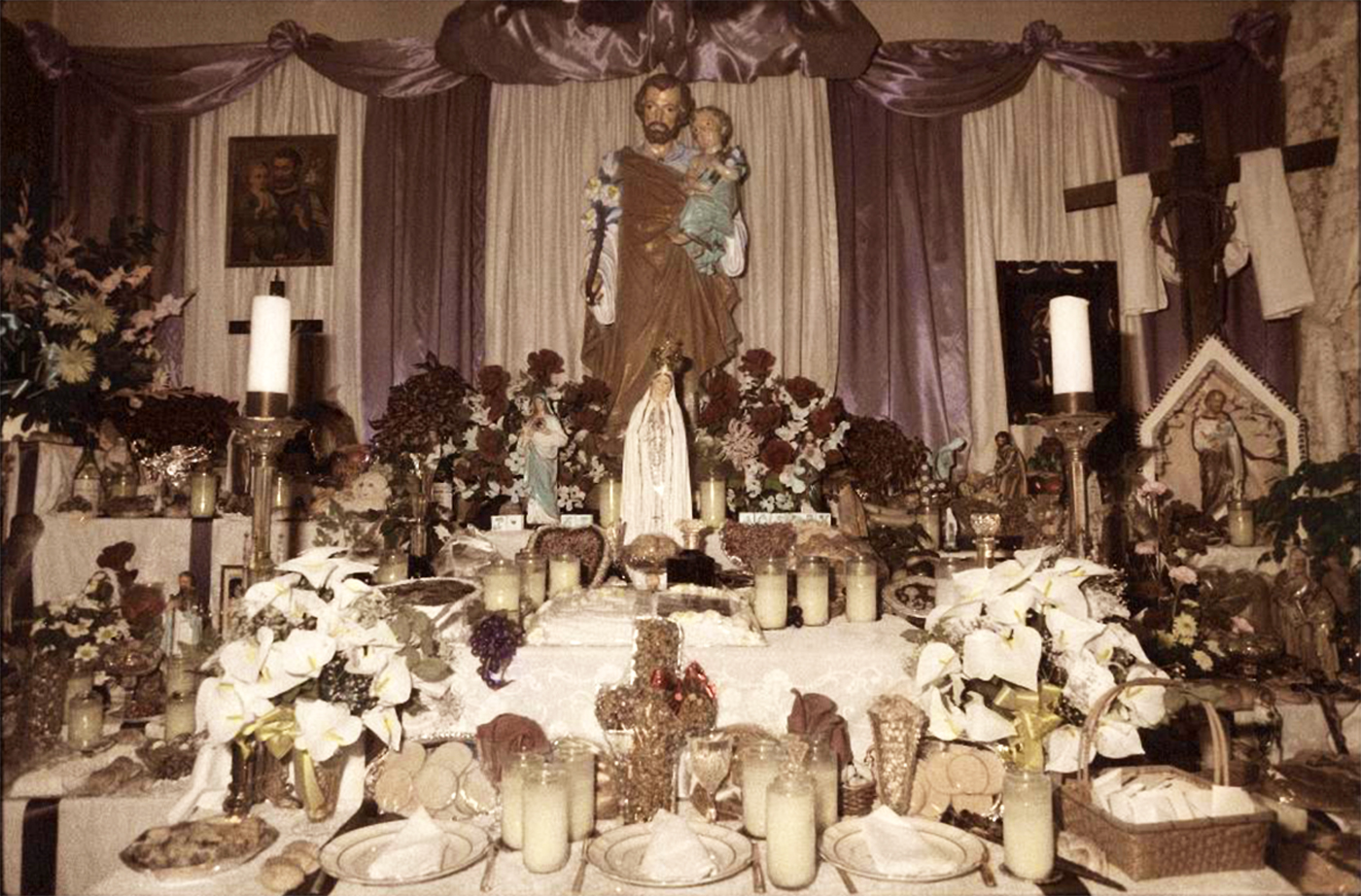 Pennies From Heaven - Saint Joseph Altar
This photo is of great sentimental value to my family and me.
Neighbors of my grandmother, the Morvant sisters made a petition to Saint Joseph in the 1950s. It was granted, so they were morally obliged to make an altar in gratitude. Although they worked at the Woolworth Five and Dime Store on Canal Street and were poor, they saved their pennies every week to be able to produce their altar the following year. We were blessed to watch it grow year by year as neighbors pitched in to help, with many making cookies and cakes. The sisters eventually were gifted with that beautiful statue of Saint Joseph, which became a magnificent evolution as their altar became so popular that they moved it to their parish Our Lady of Good Counsel Church on Louisiana Avenue. The priests lived next door to the church and their huge carport on Chestnut Street became a significant gathering spot for the feast to Saint Joseph. Congregants and neighbors pitched in for a fish fry and donated many Italian delectables that are part of the sweet feast day celebrations dedicated to feeding the poor. Sadly, that lovely church and Community Center building next door were closed by the Archdiocese. The Morvant's altar expanded again and is now one of the most culturally celebrated altars in New Orleans accompanied by one of the best feasts of Saint Joseph in Good Shepherd Parish, at Saint Stephen Church on Napoleon Avenue. The photo was printed in sepia tone and hand tinted.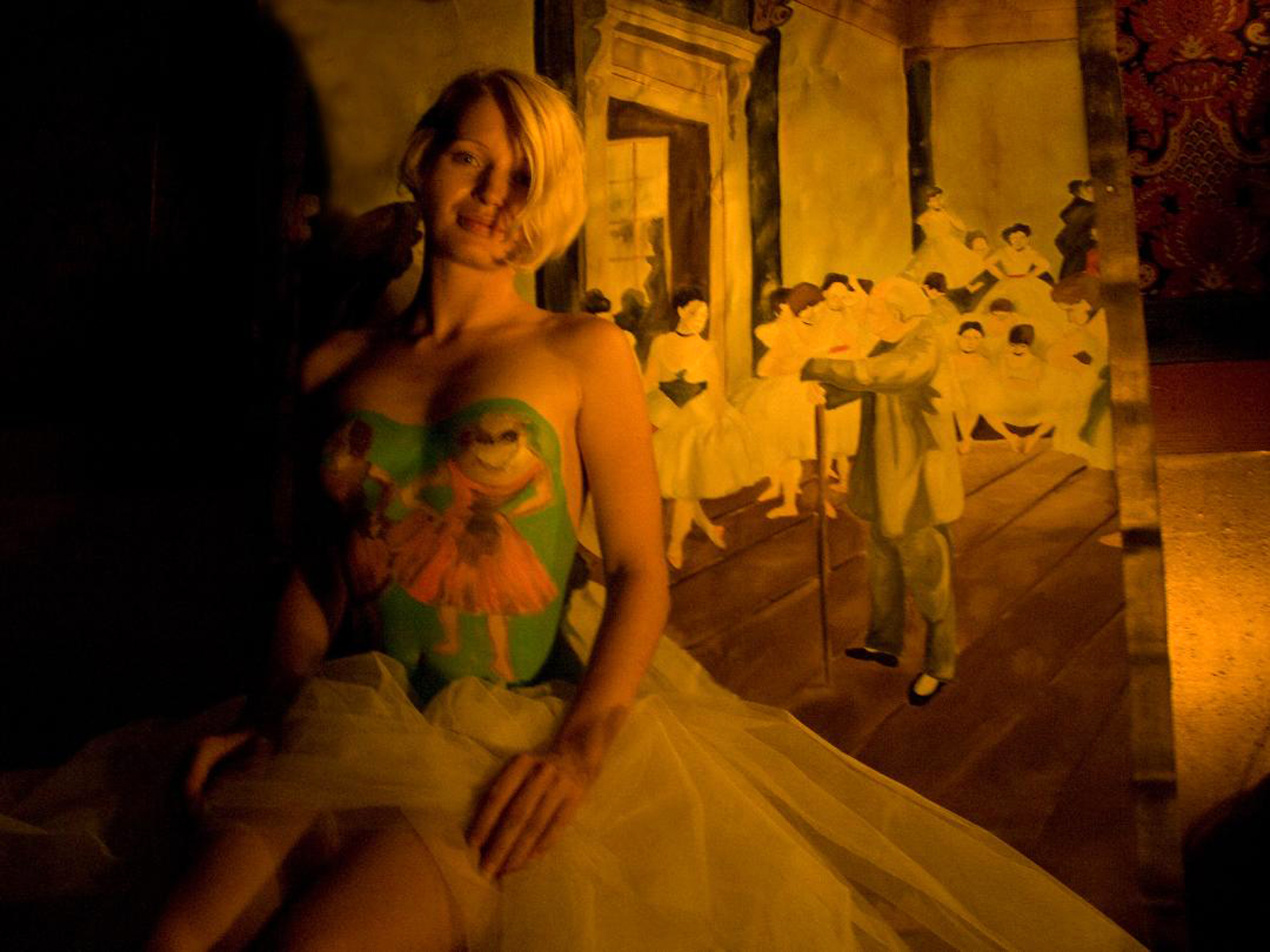 Tempting Grace
Modeling the tantalizing intrigue of live body painting at a Carl Mack affair, the design echoes the ballet depiction in Edgar Degas' "La classe de danse" (background).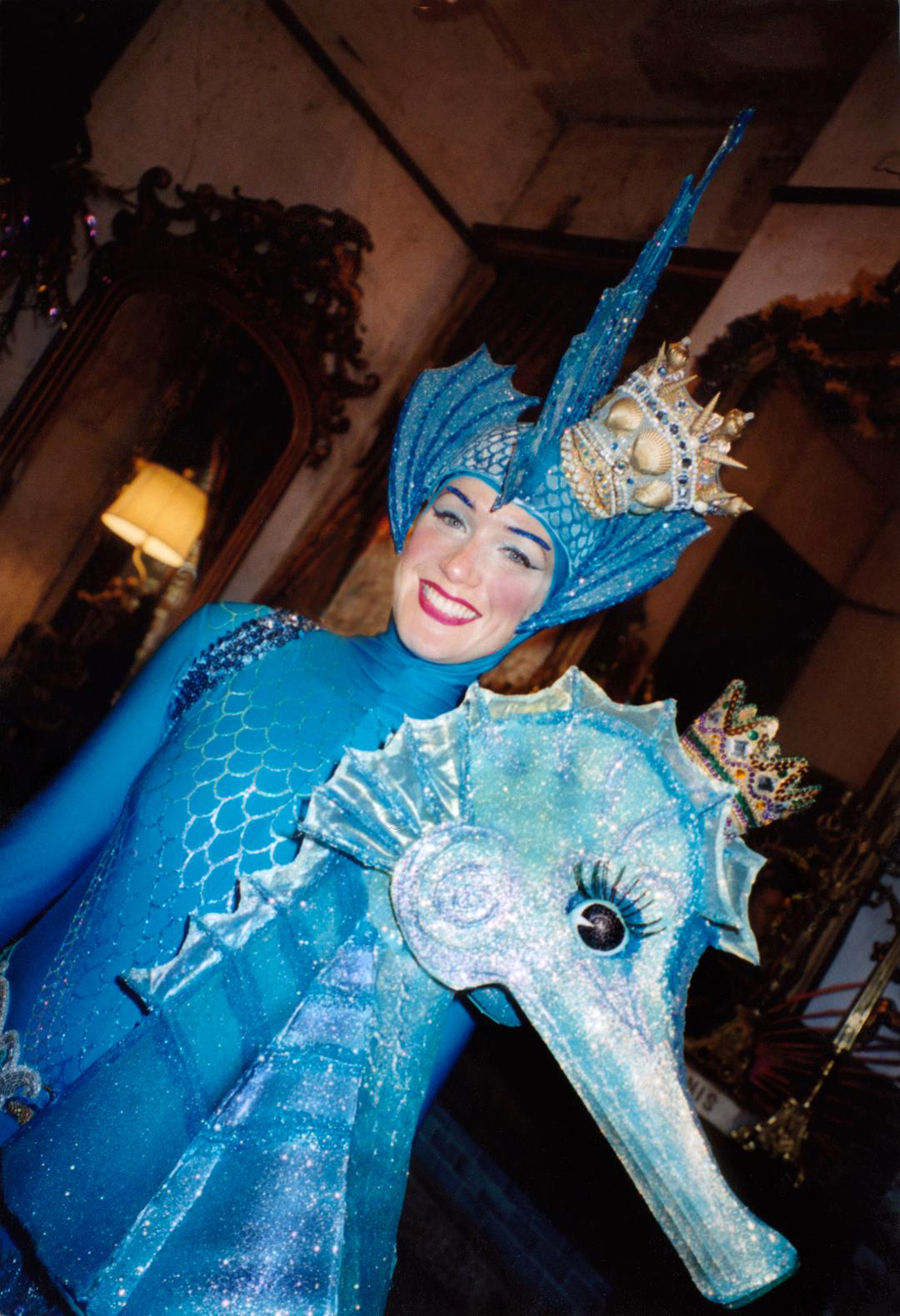 Aquatic Ambiguity
New Orleans is a water city so what costumes could be more appropriate than mermaids? Something about mermaids speaks to me of the creative genius of our culture where costuming and masquerade are a way of life within the abundance of the waters that surround us.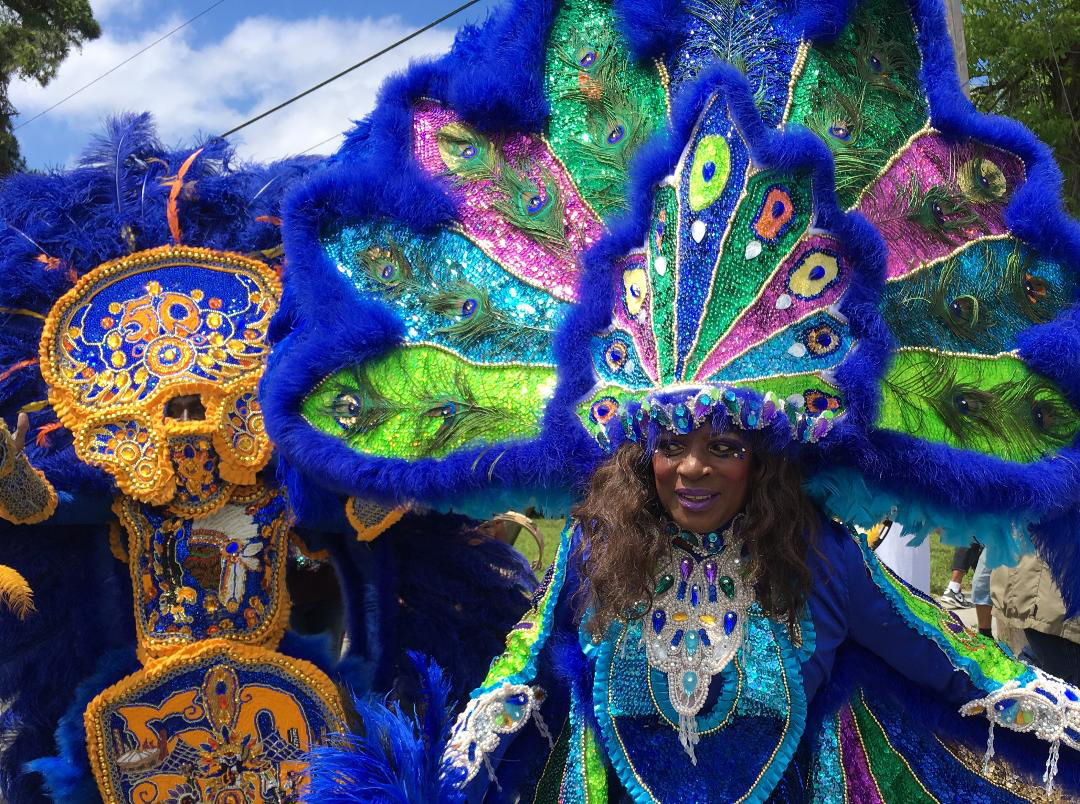 Mohawk Hunters Big Chief and Queen
Big Chief Tyrone Casby's 50th Anniversary Masking Indian,
West Bank Super Sunday April 23, 2017.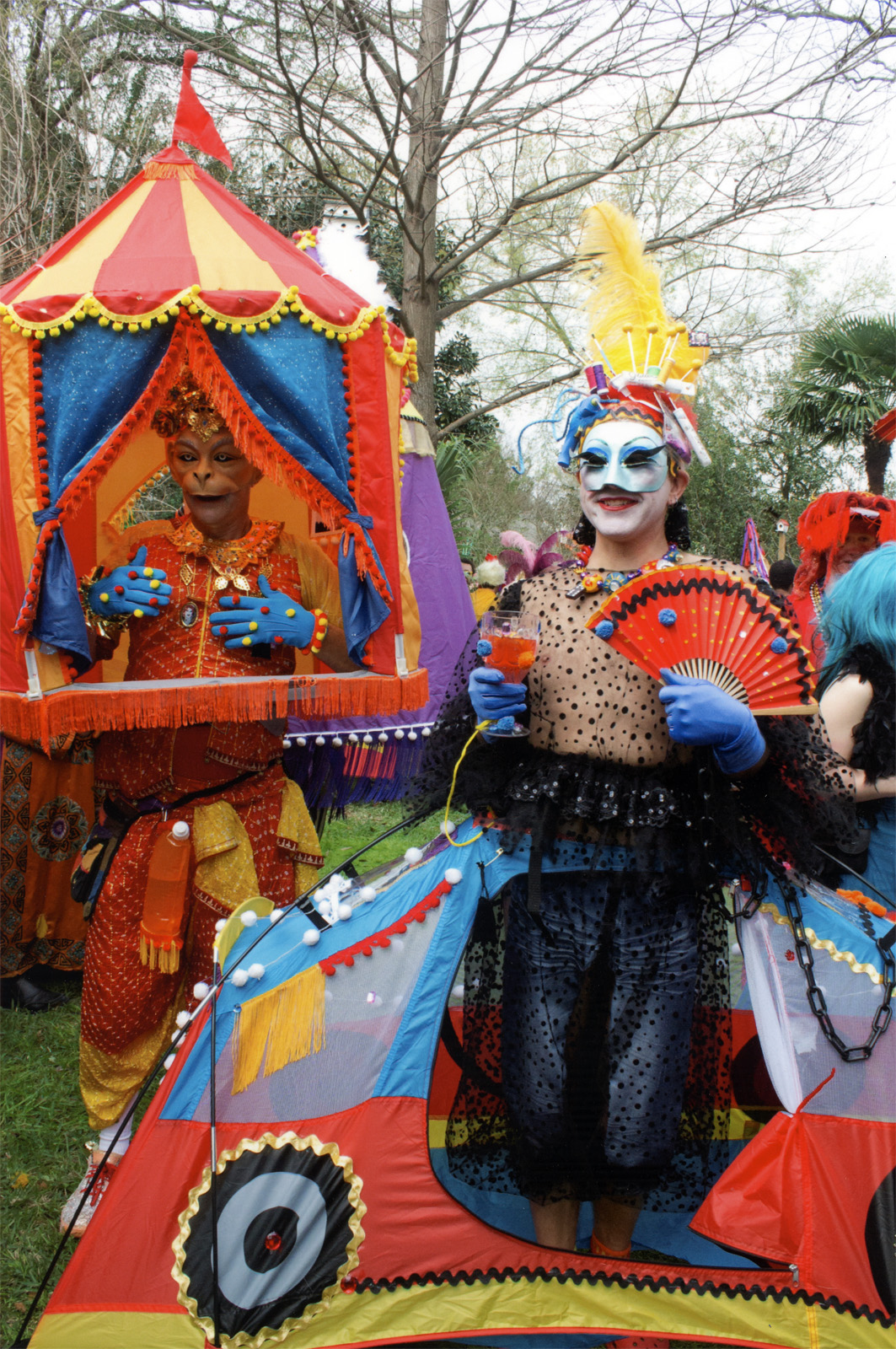 Joy Tents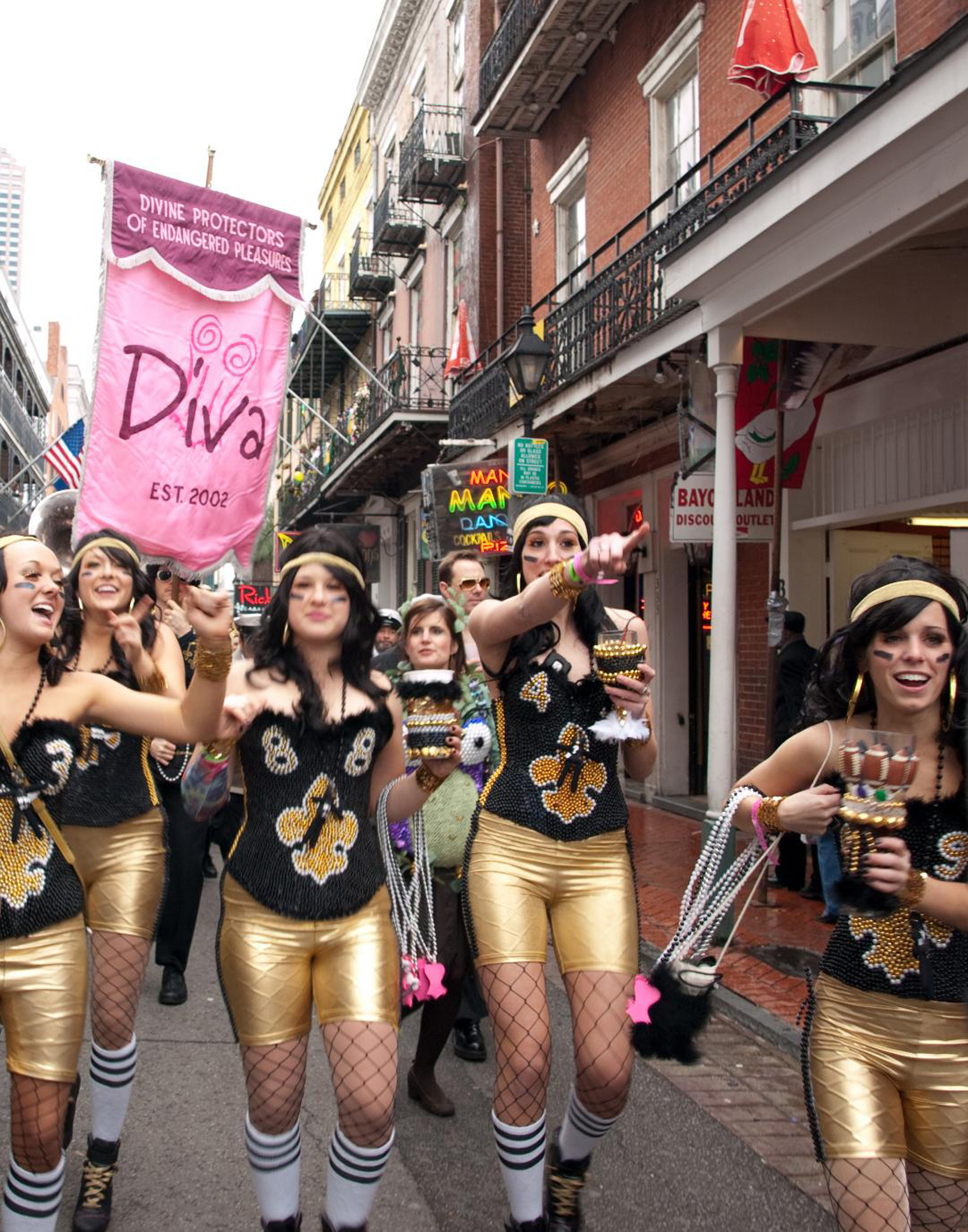 Prancing Divas


Flambeau Lumière
This photo reminds me of how in my childhood the "etherealness" of Mardi Gras touched my imagination way before the advent of superkrewes with humongous floats with fancy lighting and sound effects. I loved how in the old days floats illuminated by flambeaux would emerge from billowing smoke. The effect was spellbinding and surreal. I lowered the shutter speed settings for this image, capturing some of that old time magic.
I personally have had frightening experiences with flambeaux. I still have scars on my leg from burning fuel that sloshed from open cans atop a flambeau when I was 7 or 8 years old, in the early 1950s. Another time a man ran across the street because he saw that my mother's hair was on fire. He put her hair between his palms, quickly rubbing the flames out.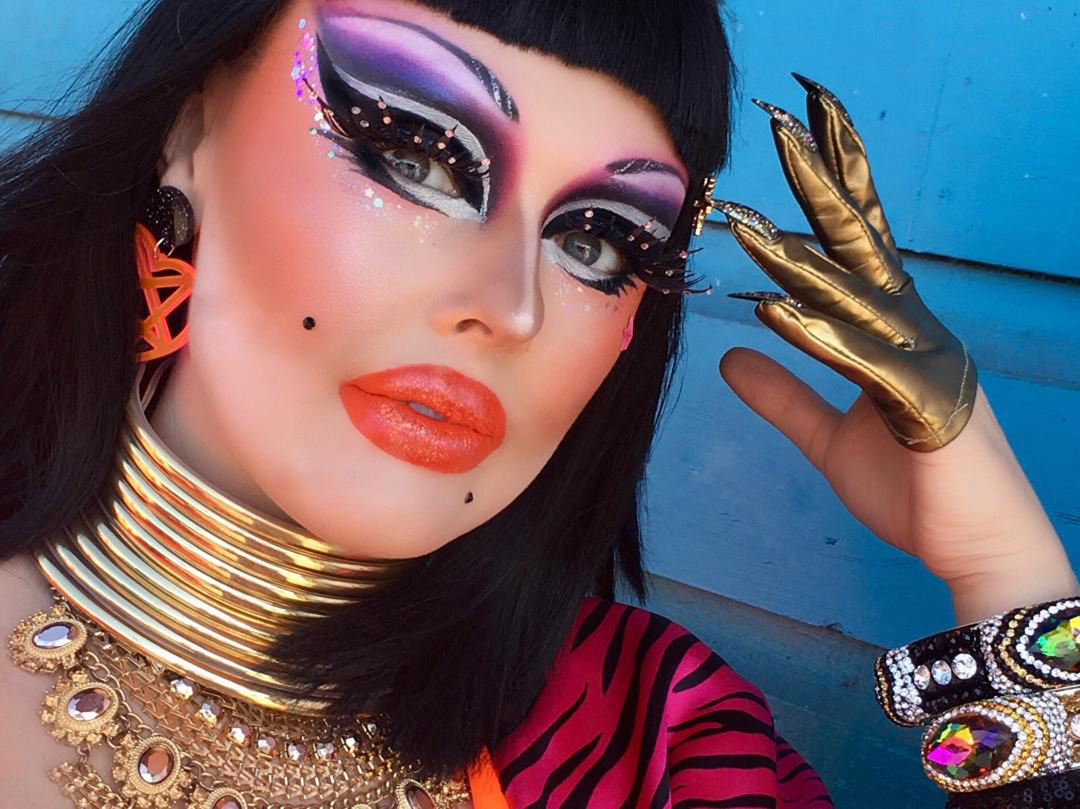 Tarah Cards
You are probably thinking that this is one of my Photoshop creations, but this striking photo was simply clicked au naturel illuminating the astonishing handiwork of make-up artist supreme, whose professional name is "Tarah Cards," using her own captivating face to spotlight her creativity.

Sunpie
Twelfth Night celebration at the House of Blues, 2008.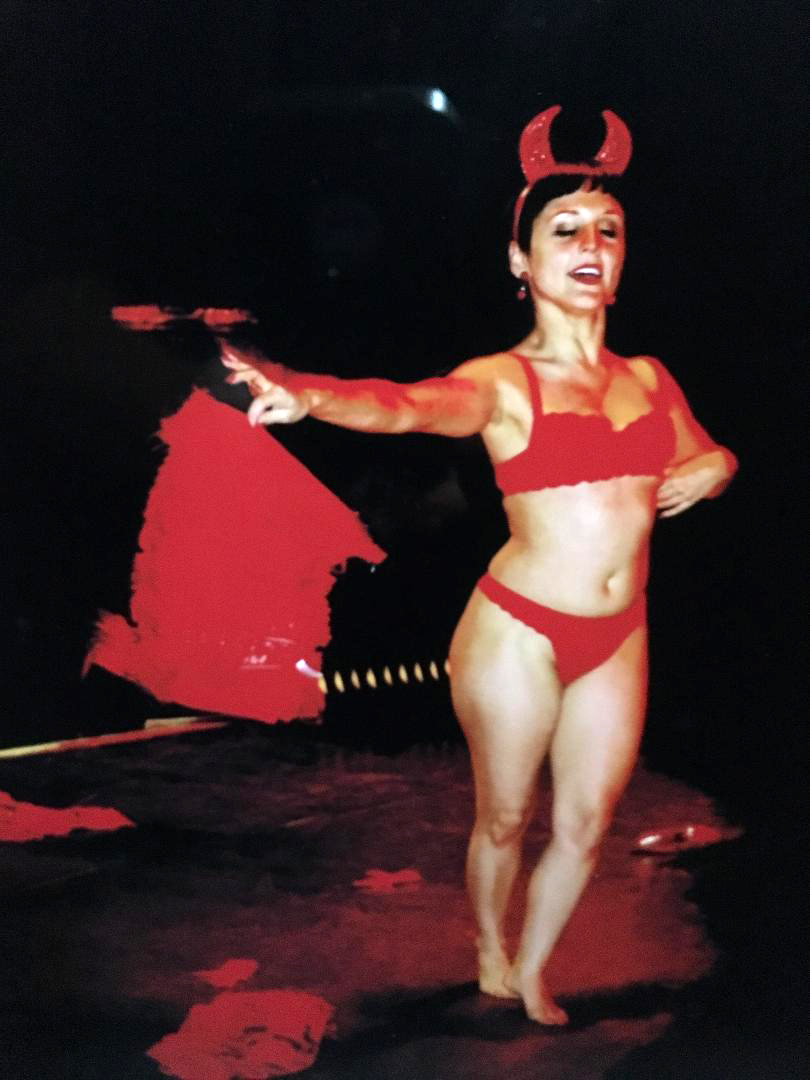 Diabla
Devilish Tantalizing Teasing Burlesque.